Once you've sent or received an SMS with the SMS for HubSpot app, you'll be able to view the activity on relevant records. 
If you're sending an SMS through a contact-based workflow, the SMS activity will appear on the contact record. The same is true if you are sending a single SMS directly on the contact record itself. 
If you are sending an SMS with a Deal-based workflow the activity can appear on the Deal itself, the company associated with the recipient, the contact record, or all three if you so choose.
---
To view SMS activity within a contact record
1. Select Contacts from the main banner-menu:
2. Select the contact whose activity you wish to view by clicking on their contact record:
3. The contact view should default to the Activity Log (if not, click Activity in the contact menu):
4. Now, if you've followed the above steps and you still can't see the SMS activity in the activity log, you may need to configure one last thing. Just under the Activity tab in the contact profile, click on Filter activity, look for where it says Integrations, and check the box next to where it says SMS for HubSpot: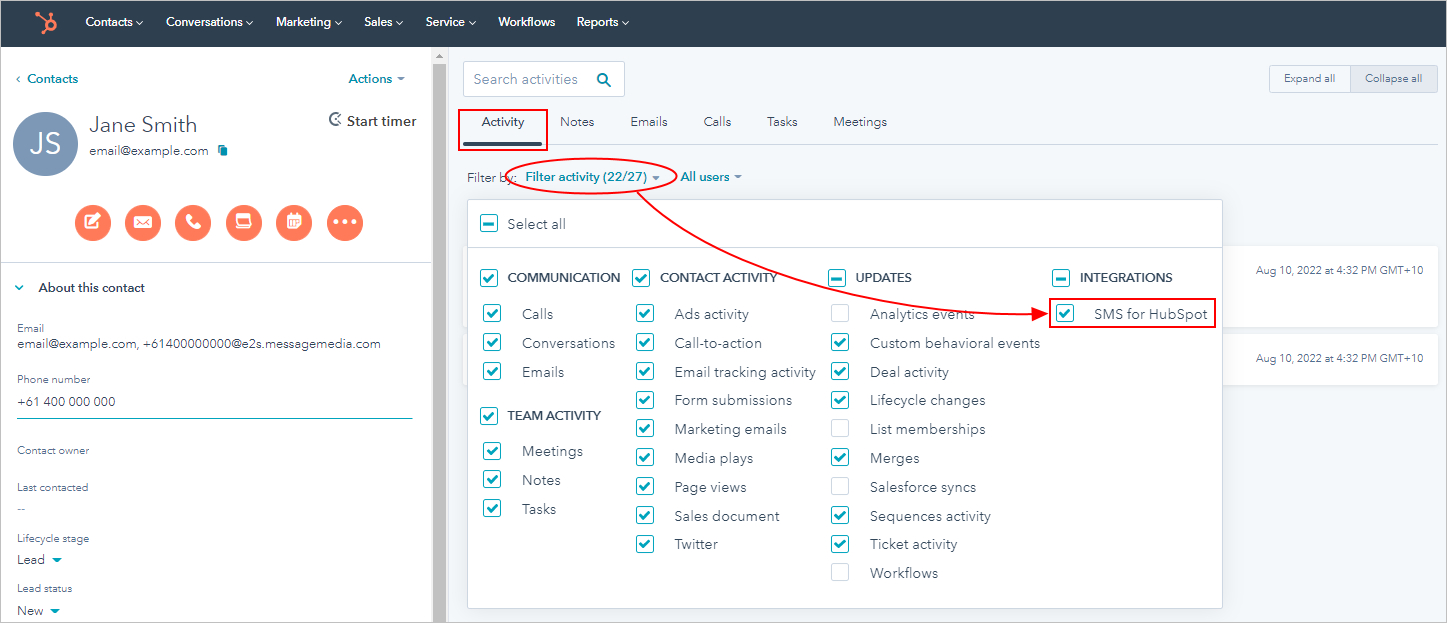 Now you can review the SMS activity in the contact's activity log. 
Note - checking this box is a user specific configuration that only applies to the specific contact where you have applied the filter. I.e. the configuration will be visible only to the user (e.g. - you) who set it up, on the specific contact profile it's applied to. It doesn't automatically apply to all contacts for all users.
---
Viewing SMS activity on a Company record
The process is the same for viewing SMS activity for a Company (simply select Companies from the banner menu and then click on the company whose activity you wish to view)
Viewing SMS activity on a Deal record
1. Go to Sales in the banner menu, and then Deals:
2. Select the deal you wish to view from the Deals page:
3. Click on View record in the slide-out menu:
4. The Deal view should default to the Activity Log (if not, click Activity in the contact menu):