The SMS for HubSpot integration allows you to incorporate SMS and MMS into your HubSpot workflows as both outbound messages, and by using SMS replies to trigger actions and other workflows.
---
1. The first thing you'll need to do is select a trigger to send your SMS - in this example, the trigger is a contact being added to a group called "Event Attendees".
2. To add an SMS or MMS as an action, click on the + icon to open the list of available actions:

3. Locate (scroll or search) and select the Send SMS/MMS action for SMS for HubSpot: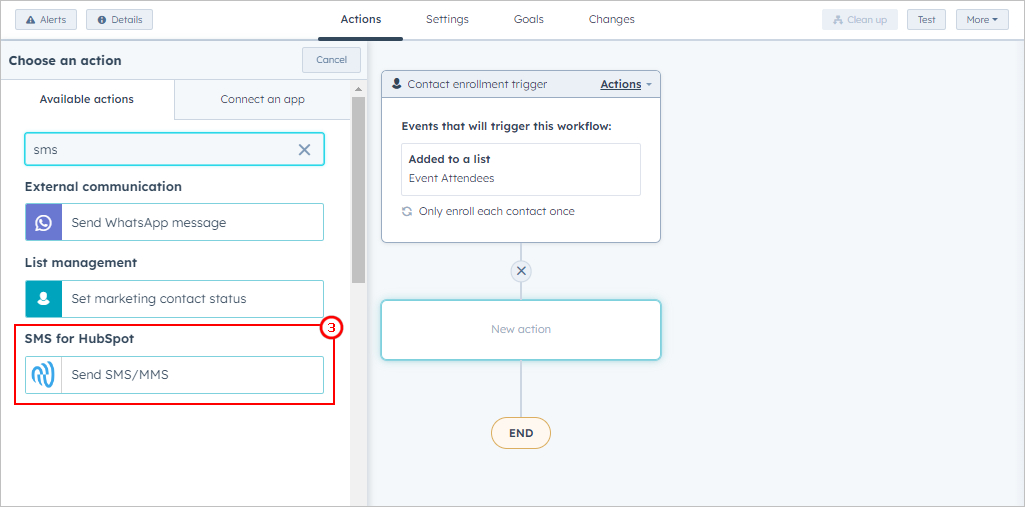 4. Now you need to configure the SMS/MMS: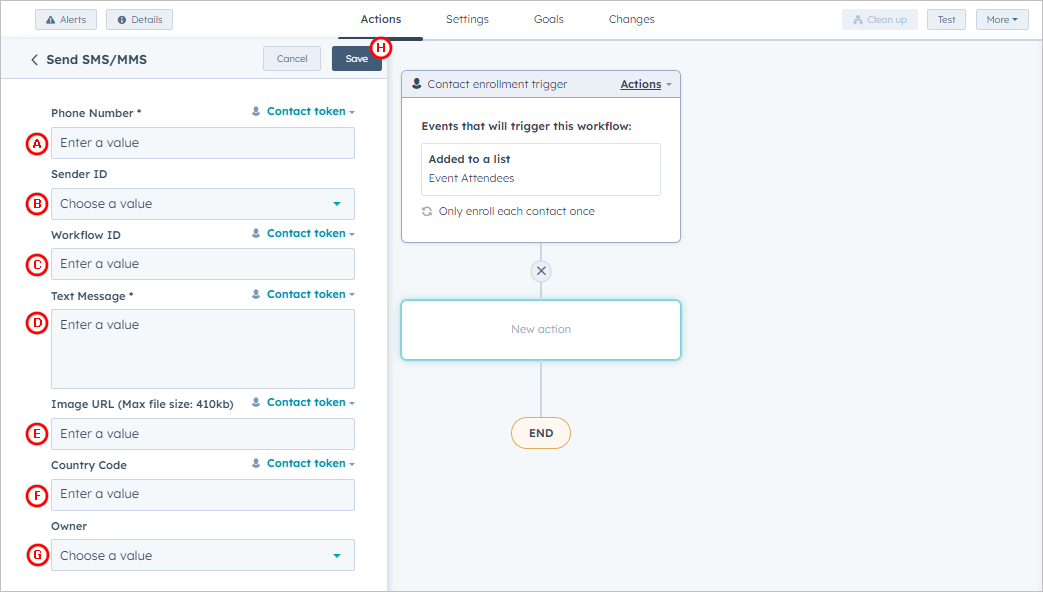 A) Phone Number - select the appropriate contact token for your contact's mobile number.
B) Sender ID - select your Sender ID - this data is retrieved from the messaging Hub and will reflect the options available to you on your Sinch MessageMedia account, including any dedicated numbers, registered alpha tags, and your default sender ID. Please login to the messaging Hub to manage these settings.

C) Workflow ID - select your workflow reply ID. This will ensure that replies to this message will only trigger actions in a specific workflow.
D) Text Message - compose your message here. You can use contact tokens for any personalisation you want to include, like your contact's first names.
E) Image URL - to send MMS, paste the image URL here - some important callouts for sending MMS:
▶ MMS images need to be saved in your HubSpot file library before you can copy and paste the image URL. Go to Marketing > Files & templates > Files.
▶ In order to send MMS messages, you need to have MMS enabled for your Sender ID. To do this, you can submit a support request and our team will help you out.
▶ If you don't have an MMS compatible number and you're not sending MMS, leave this field blank or it will trigger an error.
F) Country Code - if you're sending overseas, enter the country code here, otherwise leave it blank to default to your local country.
G) Owner - by default, all inbound replies are Select the owner of this action. This selects the email address to which notifications relating to this action will be sent
H) Click Save.
---
For some important things to remember when sending messages, read this article.