Important - As of April 1, 2023, tighter sending restrictions are being implemented for TFNs that are either in "unverified" or "pending" status. We recommend you get any outstanding TFN applications submitted before April 2023 to minimise the impacts of these restrictions.
As of September 2022, every TFN must be verified in order to send messages.

Why? Verifying TFNs is designed to reduce spam and combat fraud. But don't worry, our team is all over this requirement.
If you want to get cracking on verifying your TFN right away, here's the "I know what I'm doing - just give me the basics" version:
1. Jump over to the Hub and view your list of TFNs that need to be verified.
2. Click on the button that says Verify my TFN - you'll find this on the right, above your list of numbers.
3. Follow the prompts to complete the form, and you'll receive a confirmation email when the form is submitted.
If you'd like to know more before you get started, here's the detailed version...
---
Let's take a look at everything you need to know about verifying TFNs:
Important - If you'd prefer to speak to someone about verifying your TFN, please call our dedicated TFN hotline on +1 (888) 712-6065.
---
Why do I need to verify my TFN?
Here's the lowdown on what's happening with TFN verification requirements. 
US and Canadian cellular network carriers have introduced a new requirement: all existing toll-free numbers (TFNs) need to be verified for legitimate business use to keep sending messages.





This new requirement is designed to help combat fraud, reduce spam and ensure all existing TFNs comply with industry best practice. It applies to all messaging service providers, not just MessageMedia.
---
What are the benefits?
Verified TFNs help reduce the likelihood of:

Your number being wrongly flagged and blocked for prohibited activity (e.g. spam or fraud).

Your messages being flagged and filtered for containing high-risk keywords.
  Plus, it means you'll be able to keep sending messages from verified TFNs, at no extra charge.
---
What do I need to do? 
Just complete the short form – it'll take around 10-15 minutes. Here's the kind of information we'll need from you:
Your name and email address.

Your registered business name, website, and address. 

How many messages your business sends every month.

Your primary use for TFN messages. 

Some sample messages.

Some screenshots and photo

s of these messages.
Please include as much detail as possible when you submit your form. Then, our team will take it from there.
The easiest way to fill out the form is via the link in the Hub where we've already filled out some of the important parts for you.
To get started, head to the Hub and review your list of TFNs that need to be verified. If you have an unverified TFN, there will be an alert next to the number in the Number Status column. To fill out the form, just click on the Verify my TFN button on the right and follow the prompts: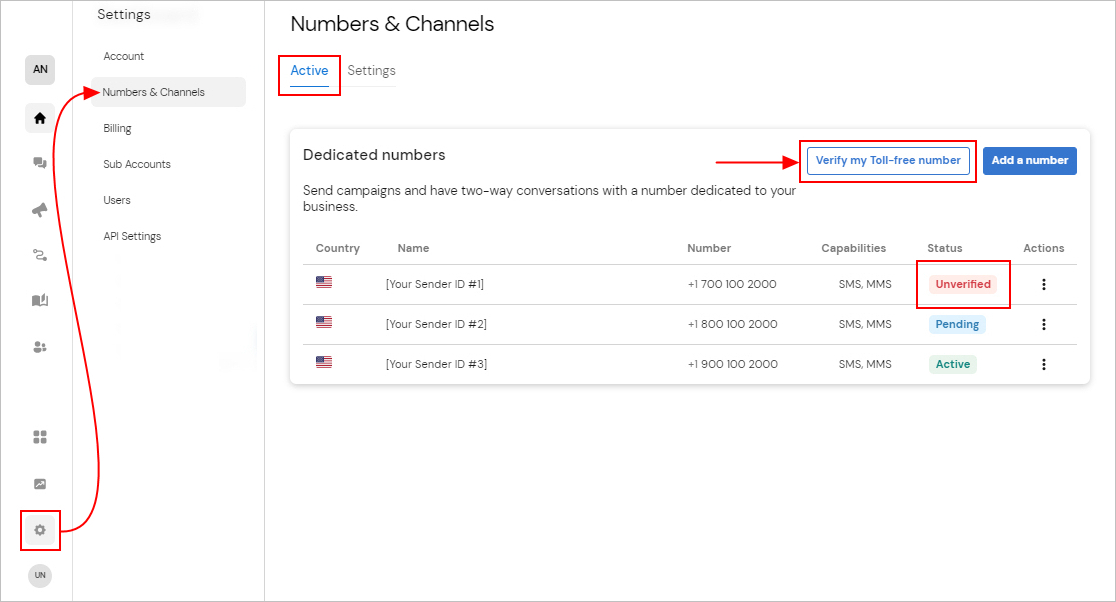 Once the form is submitted correctly, you'll receive a confirmation email. If you're having trouble logging into the Hub, you can also complete the form on our support site.
---
What happens if I don't comply? 
Unfortunately, if you don't get your TFN verified, message volumes sent via that number may be restricted. You'll still have access to all your other Hub features and won't be charged anything extra.

Please note that new restrictions are coming into effect from April 1, 2023 as follows:
Unverified TFNs will be restricted to the following volumes as of April 1, 2023:
500 messages per day
1,000 messages per week
2,000 messages per month
For more information about these restrictions and why they're being implemented, read this article.
---
What happens if I have multiple TFNs? 
If you have multiple TFNs, you must have a legitimate reason. This could be due to:
Having various contact centers.

Having multiple store locations.

Needing regional coverage.
If you need to verify more than five TFNs, please use this bulk verification template and send it to tfn@messagemedia.com, just make sure you document these details on the verification form.
If you need a hand filling out your form, feel free to reach out to our support team who can help you with your application.
---
How many TFN verification applications can I submit?
You can submit as many TFNs as you need for verification. However, each business case requires its own application.
Here's how it works:
You can submit - multiple TFNs for the same use case on a single application.
But you can't submit - individual TFNs for multiple use cases on the same application.
Plus, it's good to know:

All TFNs on a single application should have the same use case.



The business listed on the application must be the same business creating and sending the messages.


Resellers can't list themselves as the business and submit their customers' TFNs in bulk.
---
Does it cost anything to verify my TFN? 
Zilch. Nada. Nothing. Verifying your TFN(s) is free of charge, no matter how many you have.

---
Can I keep sending messages during the verification process?
Yes, you can – but increased restrictions are coming in to effect from April 1, 2023.
"Pending" TFNs will be restricted to the following volumes as of April 1, 2023:
2,000 messages per day
6,000 messages per week
10,000 messages per month
Once your TFN is approved, these restrictions will be lifted.
For more information about these restrictions and why they're being implemented, read this article.
---
How do I fill out the form?
We've put together some tips in this article to help you complete it successfully.

---
What happens once I've submitted the form?
1. We'll review your application. If there are any issues that'll hold up your application, we'll let you know so it can be amended.
2. We'll then send your application to the verification partner. They'll review the information you've provided and either reject or approve your application, or request additional details.

3. Your TFN application will then be processed. It'll take between 4-6 weeks (although we're hoping this decreases soon).

4. We'll be in touch as soon as your TFN verification has been approved.

If your verification is successfully processed, your TFN service will continue as usual, without any disruption.

---
Who can I contact for help?
Just email tfn@messagemedia.com or call +1 (888) 712-6065 anytime.