The BigCommerce/MessageMedia integration allows you to send SMS messages from your BigCommerce workflows via your MessageMedia account. The installation process is straightforward and does not require any significant knowledge of coding.
To install the integration:
In the MessageMedia web portal, go to Integrations, and then click Install Now in the BigCommerce item:

Once you have read through the information in the resulting modal and understand the terms and conditions, click Next: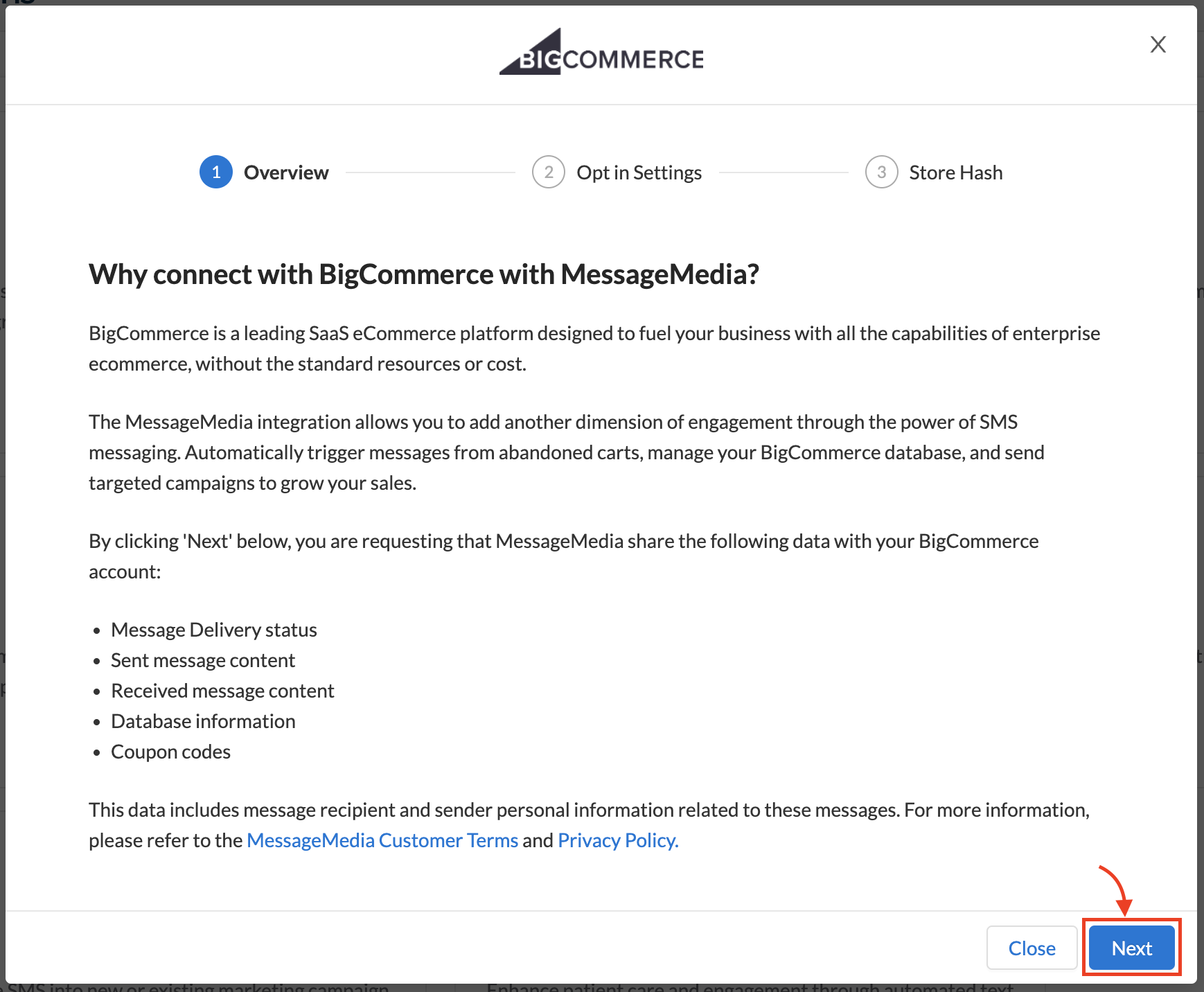 Choose the opt-in option that best applies to your region.
When sending out abandoned cart recovery messages, you need to ensure that only customers or guests who have opted in receive these messages. There are two ways to ensure your recipients opt in, and they depend on your regional regulations.
Your region may require you to only send SMS marketing to recipients that have opted in specifically to SMS marketing
Your region may allow you to send SMS marketing to recipients that have opted in to marketing in general, without the need to specify that it will be SMS marketing particularly
During setup you will be prompted to set up a checkbox at checkout that allows your customers to opt-in to marketing based on either of the two options listed above.
Please note that it is the customer's (i.e. your) responsibility to understand the opt-in requirements for their respective region.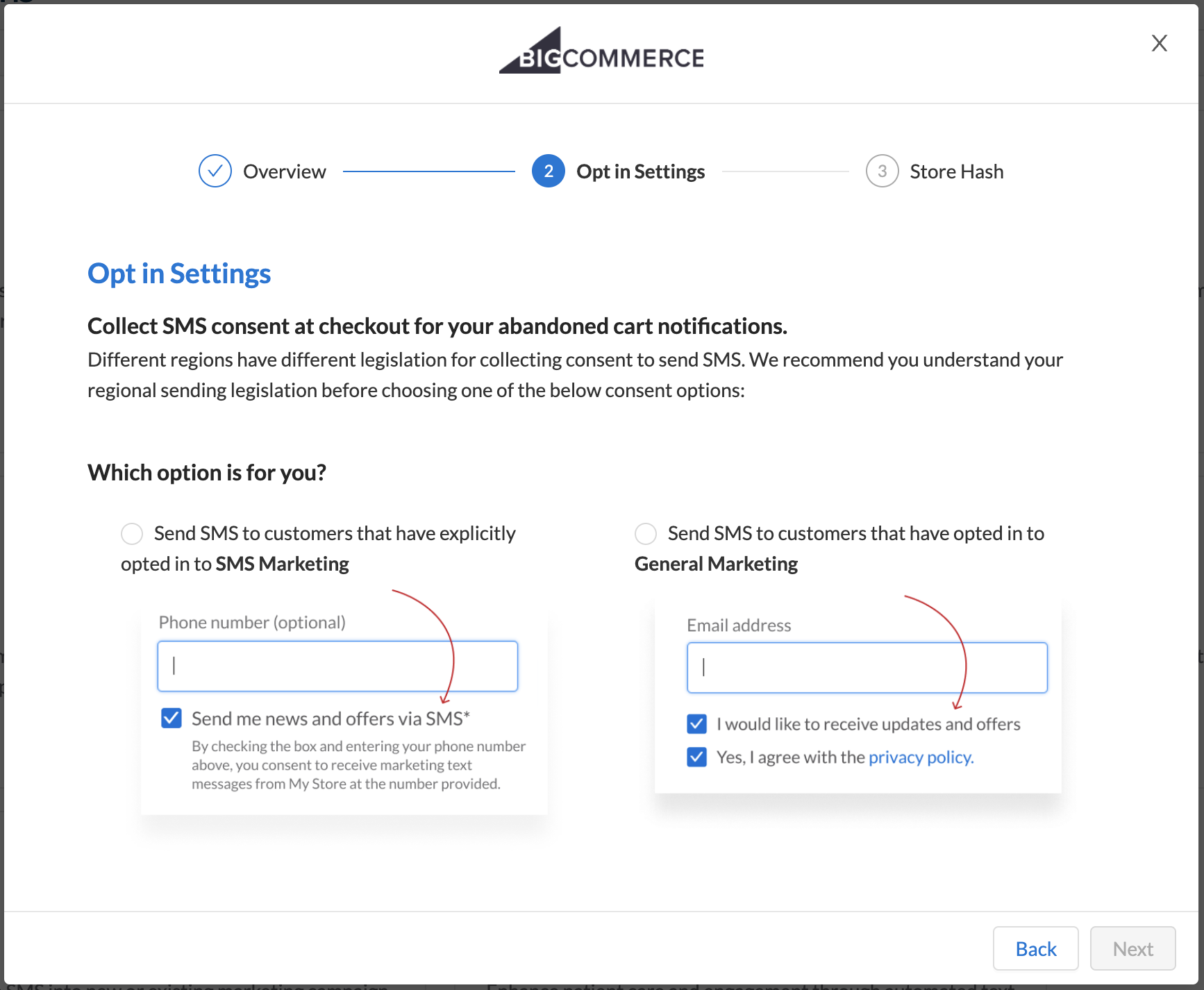 Option 1: Send SMS to customers that have explicitly opted in to SMS Marketing
When selecting this option, additional fields will appear asking you to enter the URL of the webpage containing your company's Terms & Conditions, and the same for your company's privacy policy.
This information is vital to the creation of the html code snippet that is used to embed the right opt-in section to your BigCommerce store checkout page.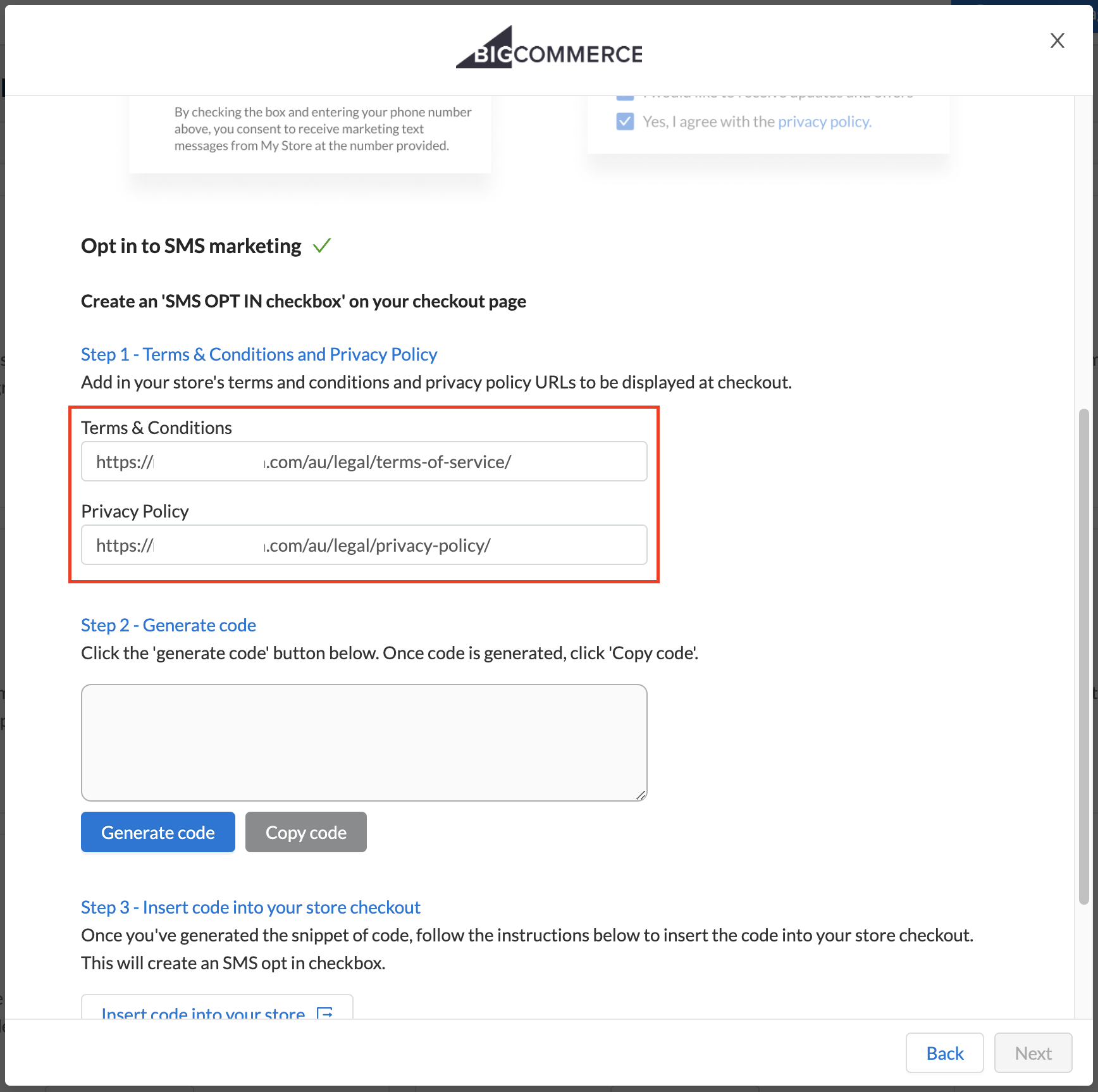 Once you have entered this information, click Generate code
You should then see some html code appear in the text box as shown below. Click on Copy code to copy the code snippet to your clipboard, ready to be pasted in to your BigCommerce store checkout page: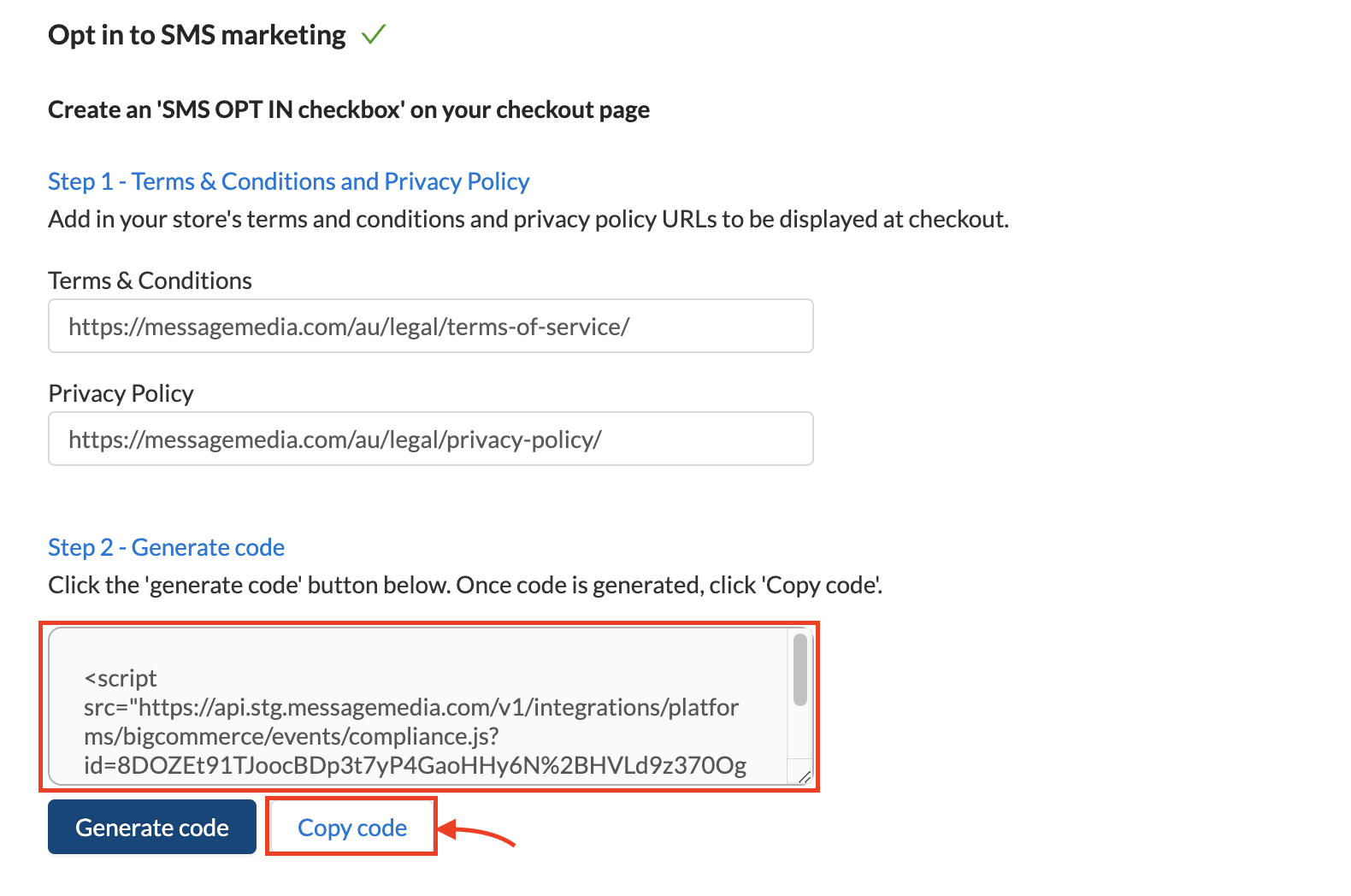 Go to your BigCommerce store and paste the code into your store checkout page. This will add the required opt-in segment to the customer checkout process so that you're legally allowed to send SMS messages to your customers.
Once you've successfully copied the code into your store checkout page, tick the box acknowledging you've done it, then click Next
Option 2: Send SMS to customers that have opted in to General Marketing
When selecting this option, you'll be prompted to create a general opt-in checkbox on your store checkout page. You can learn how to do this by reading this article.
Once you've done this, check the acknowledgement box and click Next: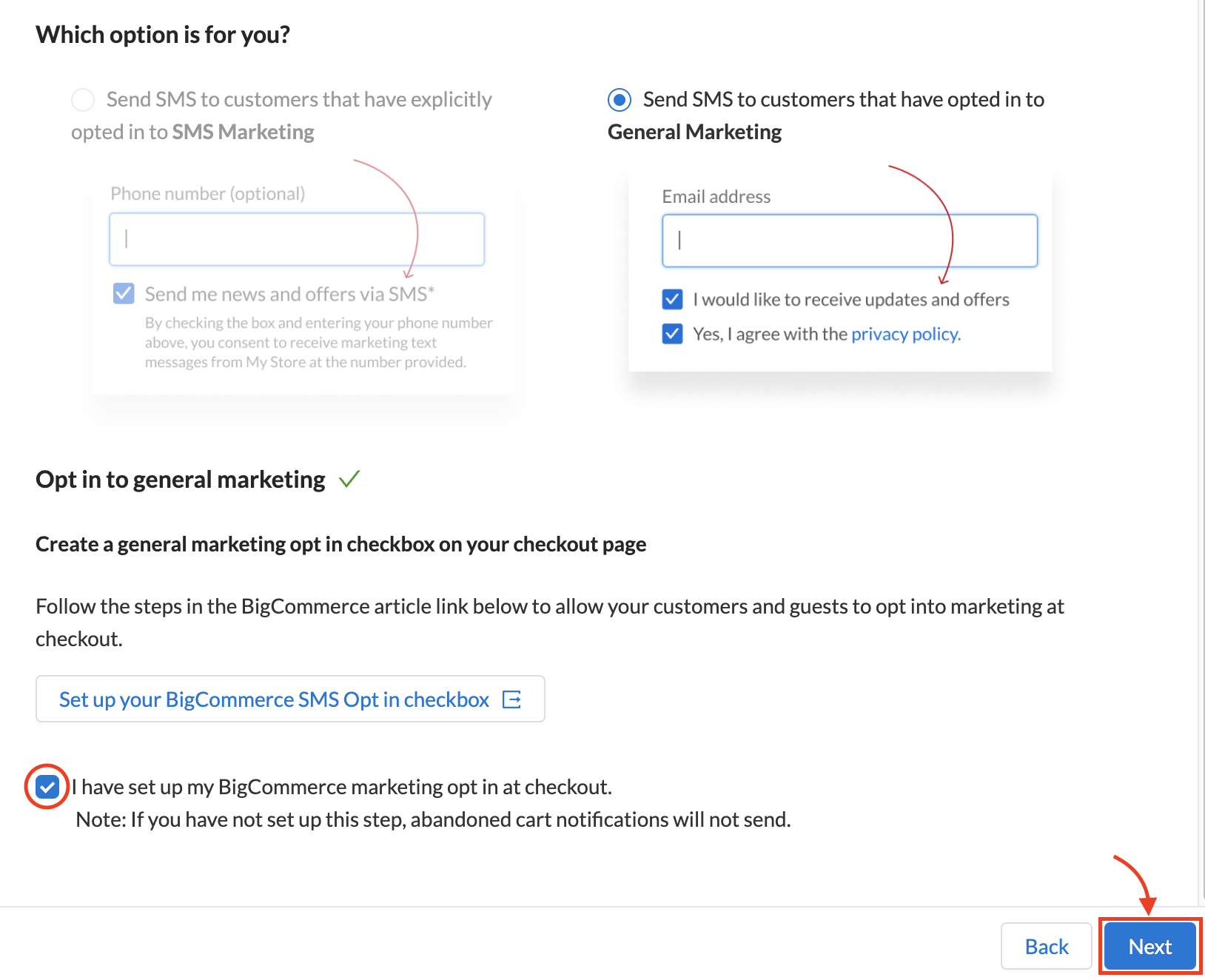 Once that's all out of the way, you'll need to add your Store Hash
This is basically a unique identifier that tells your MessageMedia account which store to link to. There are some tips to guide you through this in the install wizard itself, or you can read this article for a more detailed walk-through.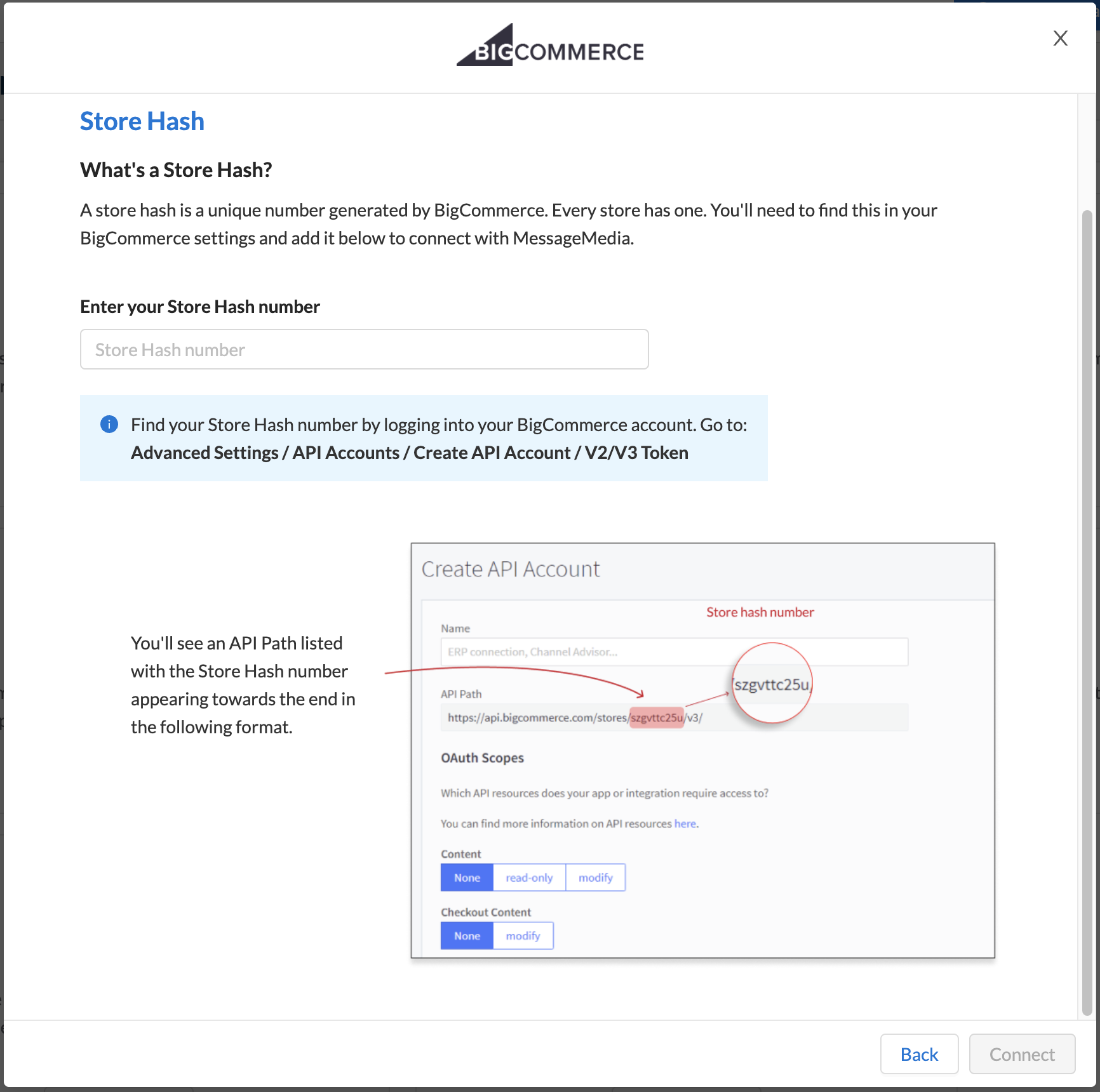 Once you've entered your store hash, click Connect
This will then take you to your Big Commerce login/store