Early access to multichannel messaging is currently available in the Hub on all Sinch MessageMedia accounts. To get started, simply connect your first channel by following the steps below.
During Early Access you can have unlimited conversations over Instagram, for free. To connect your Hub account to your Instagram account, your Instagram account must first be connected to your Facebook business page.
Here's how you connect your Instagram account to your Facebook business page
Once you've done this, you can proceed with connecting your Sinch MessageMedia account.
Here's the "I know what I'm doing, just give me the basics" version:
Log in to your Facebook and Hub accounts.
Go to Settings > Numbers & Channels in the Hub.
Click "Connect" in the box that has the Instagram logo in it.
Follow the prompts.
Test the connection and check the Inbox for Instagram messages.
---
And here's the more detailed version:
Log in to your Facebook account that's connected to your business page, ensuring you do so with an admin-level login.
Simultaneously, log in to your MessageMedia account using Admin-level credentials. If you don't have admin-level access, speak to the account administrator to get your access changed to Admin, or for them to log in and complete this process for you. Either way, we suggest asking very nicely.
In the Hub menu, click on the 
  icon and select Numbers & Channels.
Then select the Active tab and click the Connect option for Instagram Business.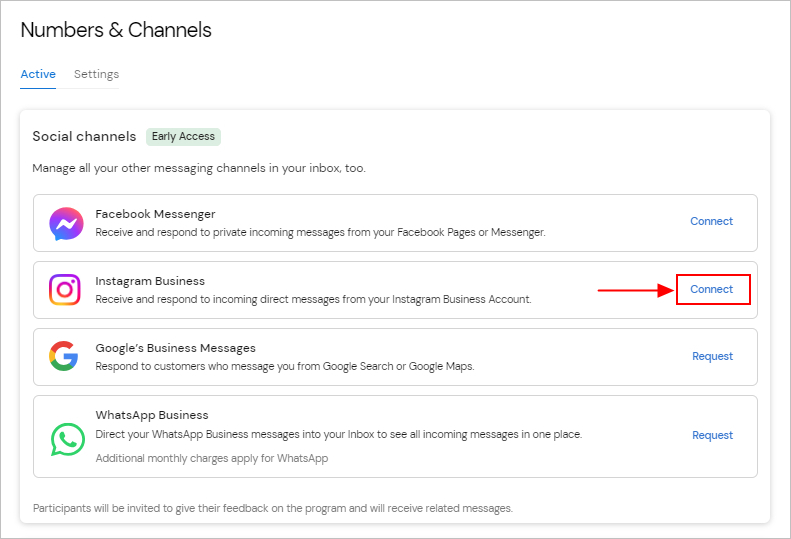 Note: If you've already got other channels connected, you'll need to click the "Add new channel" button which will appear.
You'll get asked to continue to Facebook using the profile you've logged in to. There's also the standard permission stuff for MessageMedia to get access to limited info relating to your Facebook account. If you're happy to continue, click the big blue button: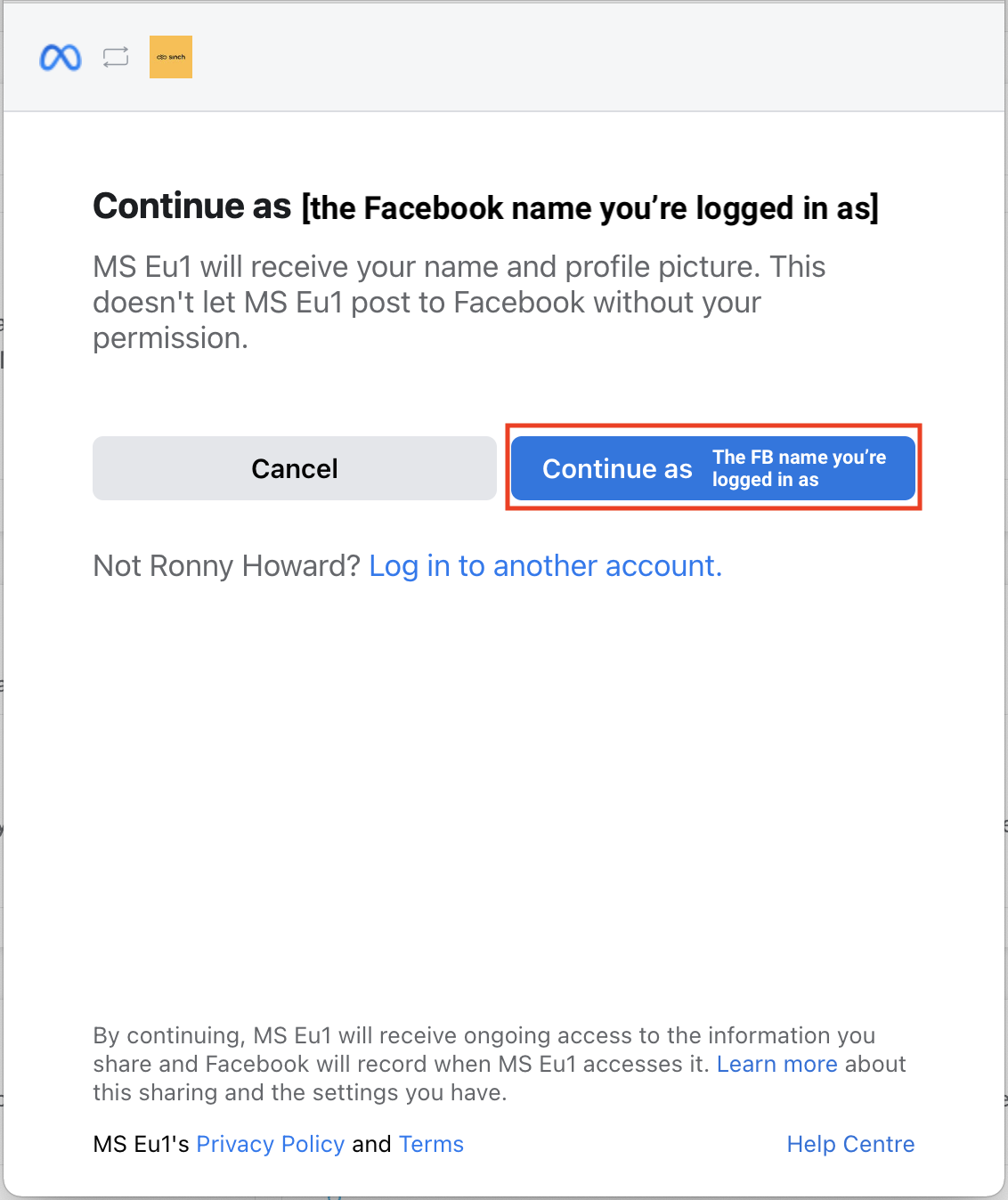 Next, you'll be asked which Instagram business page you want to connect. Select the desired page by ticking the check box next to it and then click Next: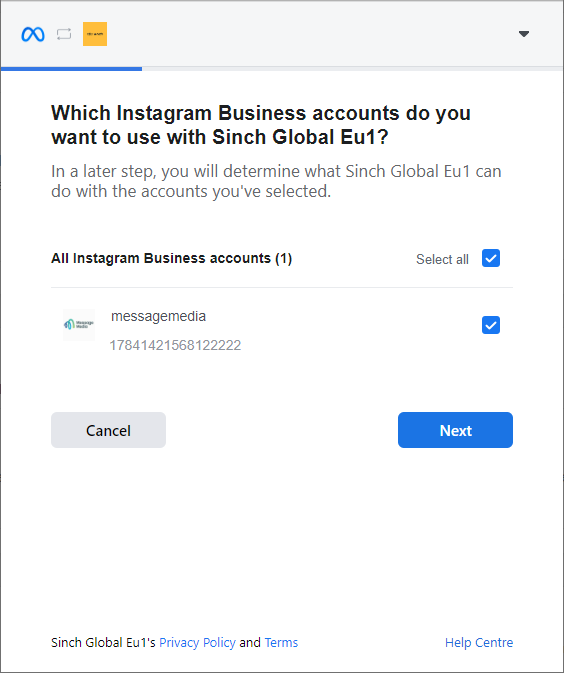 Ok, so here's where the connected Facebook page comes in to play. You'll get asked which Facebook page you want to use for the connection (as in, the Facebook page that your Instagram account is connected to):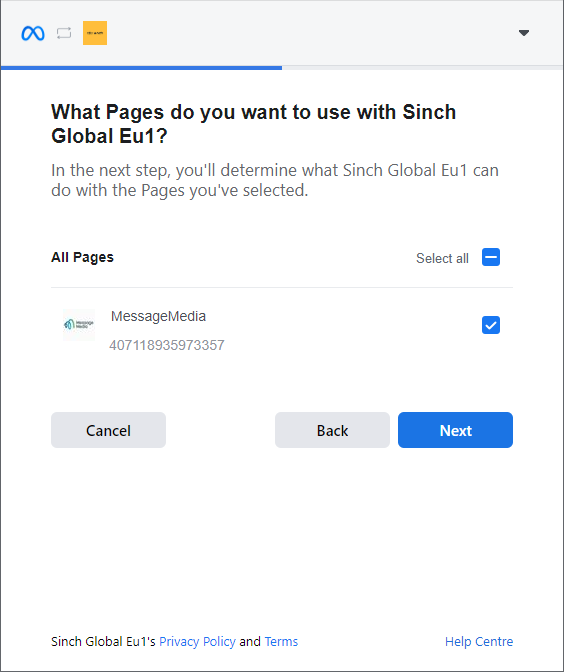 Now, you need to set the permissions for your Instagram page. The required permissions are shown and pre-selected. Just remember, if you don't have these permissions selected, the connection might not work properly, and you won't enjoy yourself as much as you could.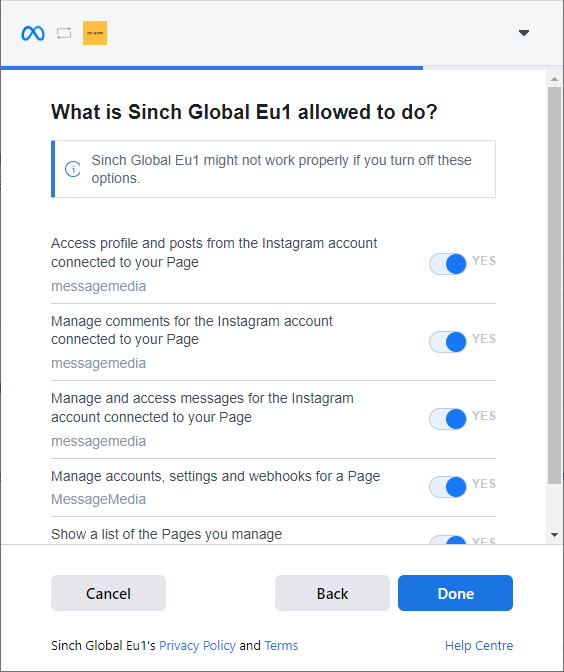 And you're pretty much done - just click OK to close the window and return to the Extensions page: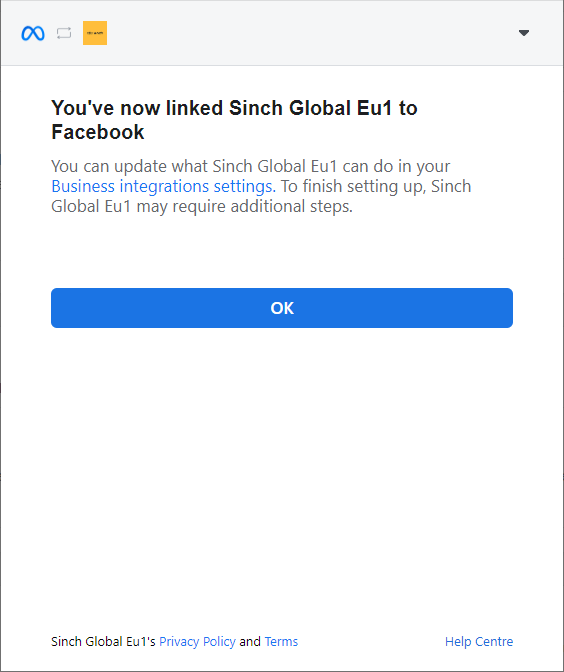 Once the connection is live, you can test it by scanning a QR code on your mobile to send yourself a message.
Things to Remember
You can set your welcome message in Instagram itself – just follow the steps in this guide.

Messages sent from other portals won't appear in the MessageMedia inbox – but incoming messages still will, so it'll appear as a one-sided conversation.

If you want a "single source of truth" (which is kind of like the whole point here) then ask your team to stop sending messages from Instagram. Do it all from your MessageMedia account once you have this set up.

Instagram allows for a 24 hour response window for inbound messages. If you don't respond to each inbound message within 24 hours, your ability to write replies will be restricted.