There are a few different methods that can be used to send messages in the Hub depending on your needs. In this article, we'll look at:
---
Quick Message
Just like sending a message from your own handset, Quick Message is an easy way to send ad hoc messages fast!
You will find the Quick message button in the header bar of every page so it's always one click away:

Click it to send a message in two simple steps:
To - enter a mobile number, contact name, group name, or even a combination.
Compose - type your message here, the character count and credits are calculated as you type.
Once you're finished, hit Send now and your message will be processed. Simple!
Helpful Tips:
You can send to multiple contacts and/or groups with Quick Message.
If you have any saved templates, you can select them from the drop down in the top left of this box to pre-populate your message.
You can add an opt-out message using the "Add unsubscribe" option, which will appear in the top right of this box if you have Automatic Unsubscribe activated in your account settings.
Check the bottom of the message box to see how many characters and messages are being utilised for your send.
---
"New Campaign" with Preview
Use this option if you want to send more complex personalised and bulk messages.
In the left-hand menu, click Campaigns and then New Campaign: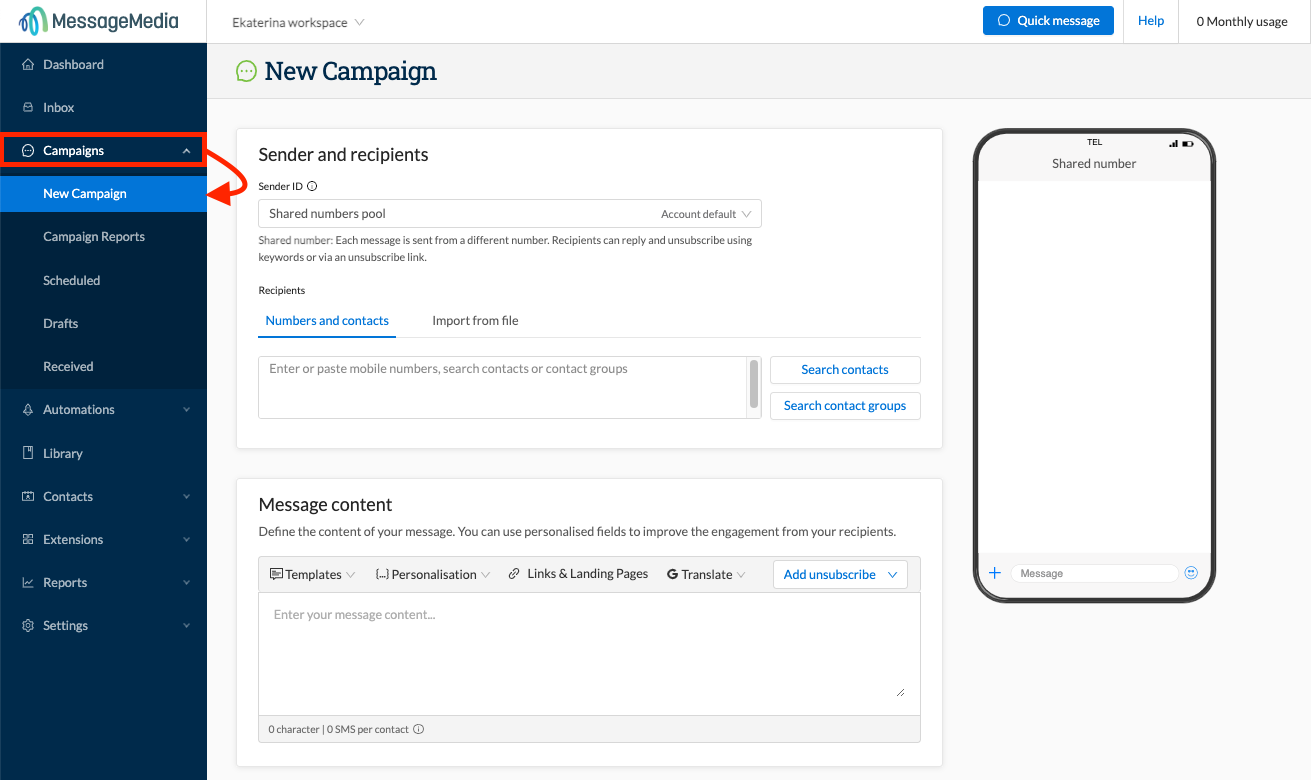 Next, if you have a specific sender ID you want to use, select it from the Sender ID dropdown:

To add recipients, you've got a few options: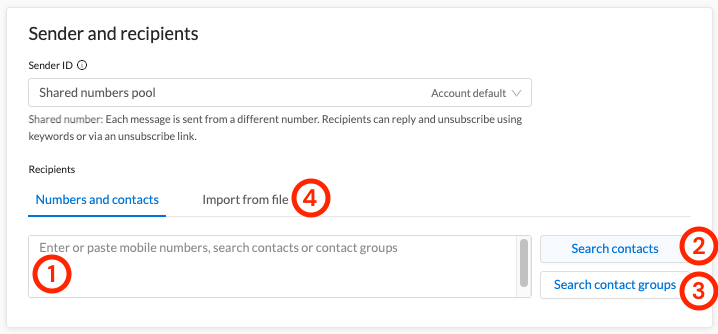 1. Enter each one manually using their mobile number or contact name (provided you've saved them as a contact already). You can also copy numbers in bulk from a spreadsheet and paste them into the recipient field directly.
2. Select individual contacts from your master contact list by clicking "Search contacts" and ticking the ones you want to send to. Note that you can select "all contacts" from this option too.
3. If you've already got contact groups saved, you can select them by clicking "Search contact groups." Note that you can also select and exclude individual contacts from within each group via this option.
4. If your contact lists are saved on a separate database (such as an Excel spreadsheet or csv file), you can click this option to import it.
Now, compose your message in the Message Content field. You'll see that as you type, the message preview on the right will update in real-time: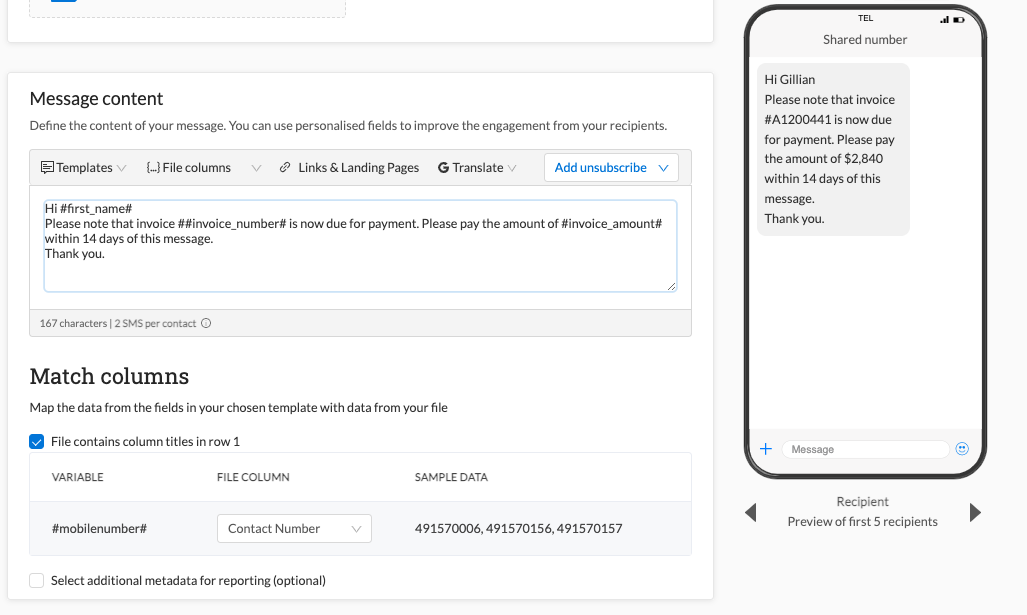 In the example above, we've imported a contact database that includes special information (first name, invoice number and amount). As a result, you can add this information to your message using the "File columns"option.
You'll also notice the "Match columns" section which appears when you import data. This is where you tell the hub which column in your spreadsheet contains the mobile numbers of your contacts.
When you are happy with your message, click the Send now button in the bottom right corner.

Helpful Tips:
You can send to multiple contacts and/or groups.
You can copy a column of numbers from an Excel or CSV file and paste them straight into the recipient field.
Similar to the Quick Message function, you can quickly add an opt-out message by clicking the dropdown on the "Add unsubscribe" button.
If you are using personalisation, the preview will show you the content in line with the fields you are using (e.g. if you are sending to a saved contact who's first name is John and you type "Hi #Firstname# ..." the preview will show "Hi John").
---
Sending from the Inbox
You can send a new message straight from the inbox to any recipient, without needing to receive an inbound message from them first.
To do this, select the Inbox from the left-hand menu, and then click the New button above the conversation list. A new conversation will open, and you can enter the recipient's name or number into the To field above the conversation thread.
If a name or number you enter matches a contact you have saved, you can select them from the automatic dropdown box:

If you are sending to a new number, you can easily add the recipient to your contacts by entering their details (including their subscription status) into the contact panel on the right and clicking Save.
Once you've added your recipient, type your message or select a template from the drop-down menu and hit Send: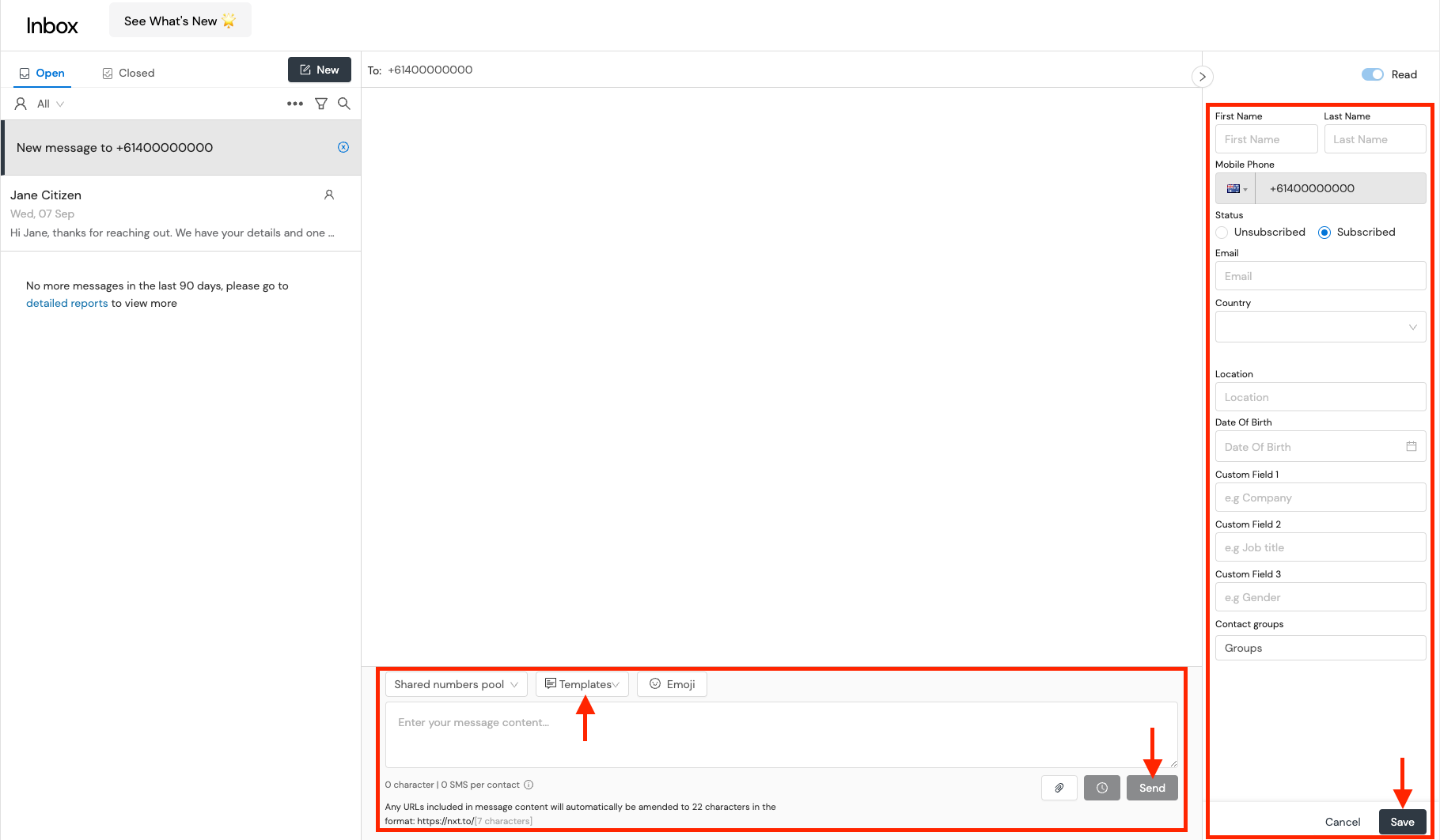 For a more detailed look at all the bells and whistles the inbox has to offer, check out this article!
---
Using Personalised Fields
When sending to saved contacts, you can personalise your messages by using any of the Custom Fields from the contact profile that have been populated with information. When writing your message, just click on the Personalisation tab and select which field(s) to drop into your message. The preview on the right will show you what your message will look like when the personalisation field pulls the data from the first recipient's contact information. Use the arrows below the message preview to scroll through the first five recipients to double check that the data is populating correctly: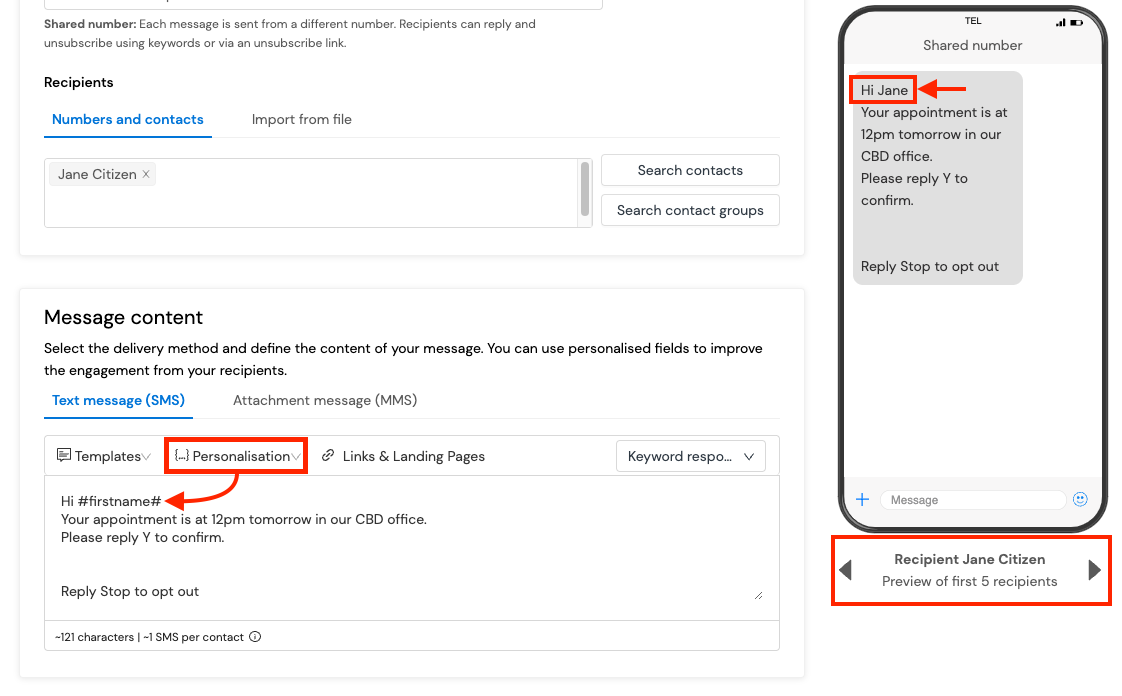 ---
Sending to a List of Numbers
To send the same message content to a large list of numbers, go to Messaging and then New Message.
Now, there are a few different ways you can add multiple numbers:
1. Paste Numbers
If you have a list of numbers in a spreadsheet, you can copy them directly from the spreadsheet and paste them into the To field.
2. Add Contacts / Groups
Click on Browse Contacts or Browse Contact Groups next to the To field.
Tick the box next to each contact or group you want to add.
You can also search for specific contacts using the search box.
3. Import from file
Click on Import from file above the To field.
Either drag & drop your contact list into the upload box, or click browse to search for your file (Note – you'll need to ensure each contact number has the leading "Zero" at the start – you can do this by formatting the CSV column as "Text").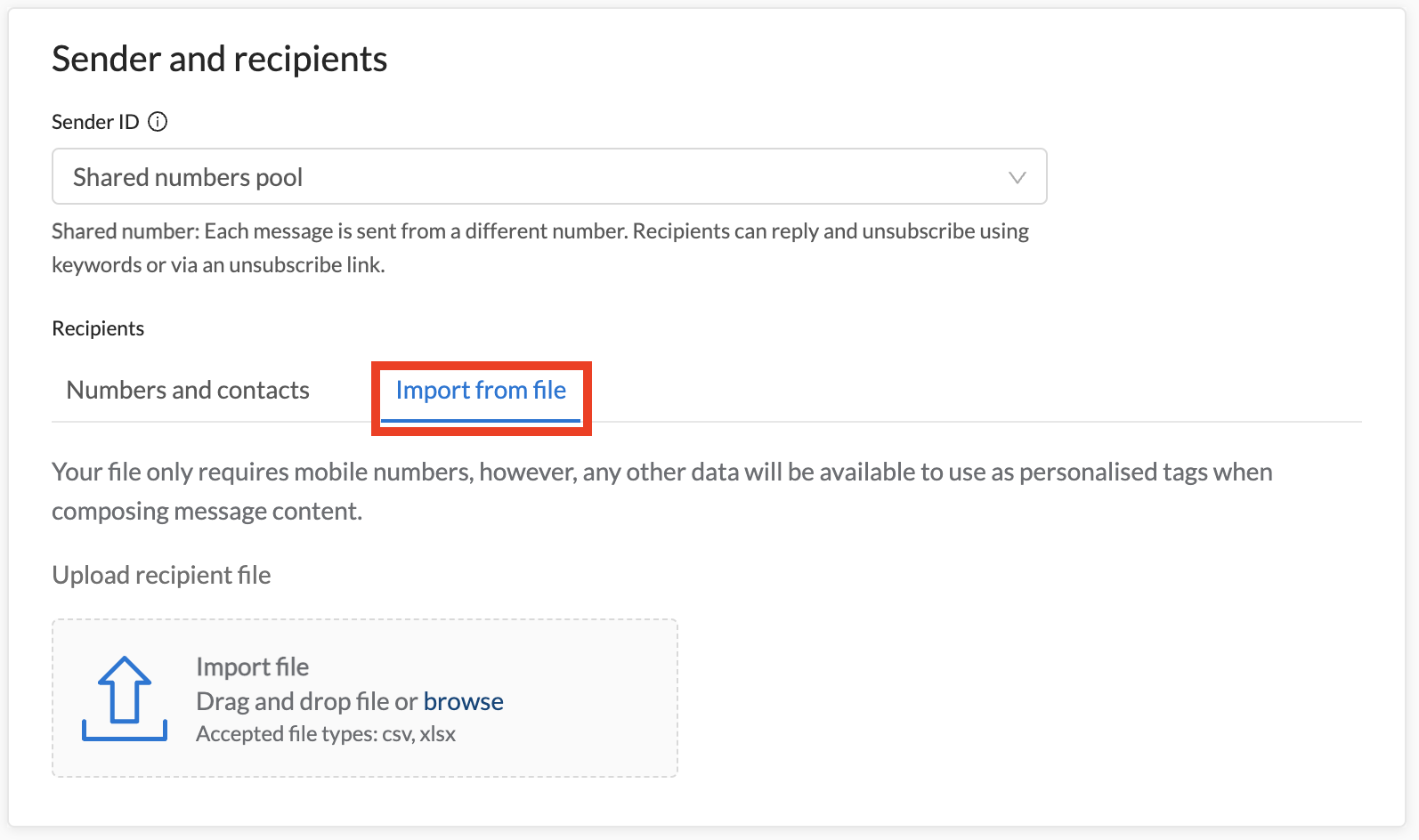 The system will try to automatically detect the mobile number column from your imported data:
Like before, write your message in the Message content field. You'll notice that the personalised fields are now mirroring the column headers in your imported data file: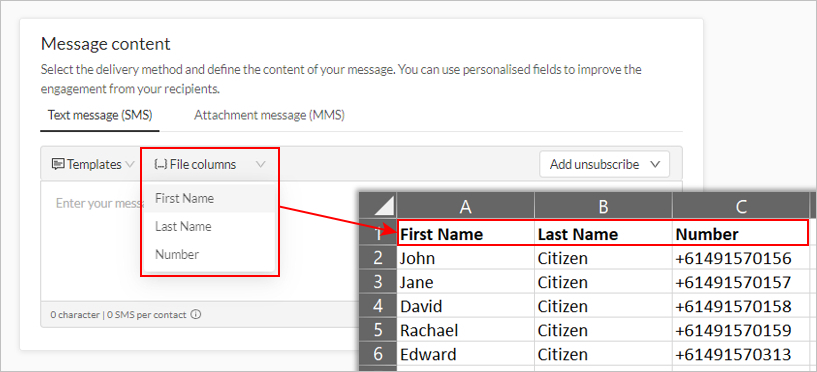 To see how the message will display on a recipient handset, you can click Send test. This allows you to send the composed message to yourself and/or a colleague without losing any of your data so you can continue with the send after vetting the message.
Once you are happy, simply click Send now.
---
Draft Messages
It's possible to create a draft of a message that can be saved and reviewed before sending. The Save as draft button will appear as an action on the bottom right of the New Message screen.
To view all draft messages, click on Drafts in the Messaging menu: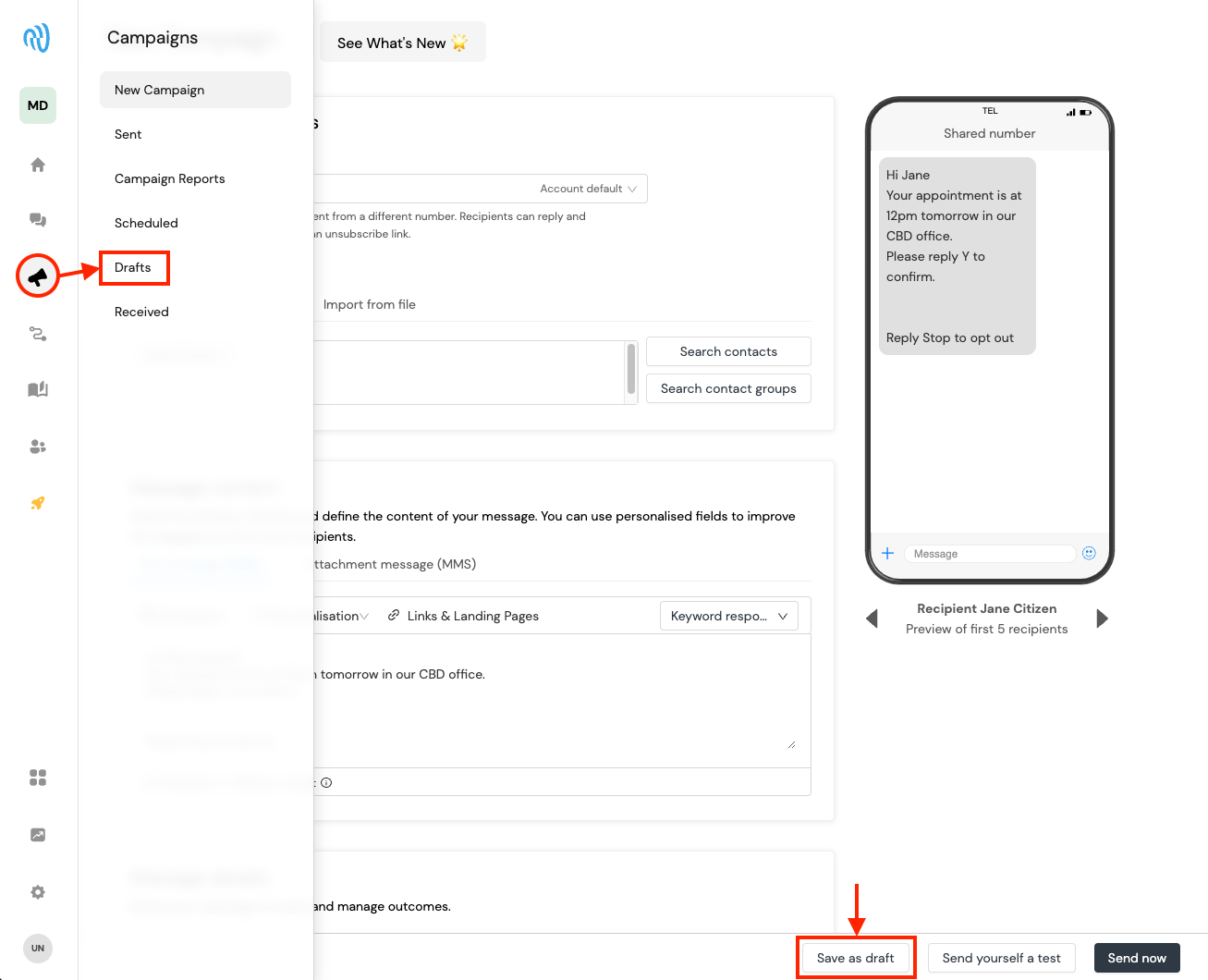 In the Draft messages list, you'll have the ability to Edit or Delete draft messages by clicking on the three dots to the right of each message:
---
Forwarding Sent Campaign messages
You can forward sent campaign messages without having to copy the content and paste it into a new message.
This is done by going to Campaigns, then Campaign Reports, then clicking the three dots alongside the message you want to forward to a new recipient and clicking Forward: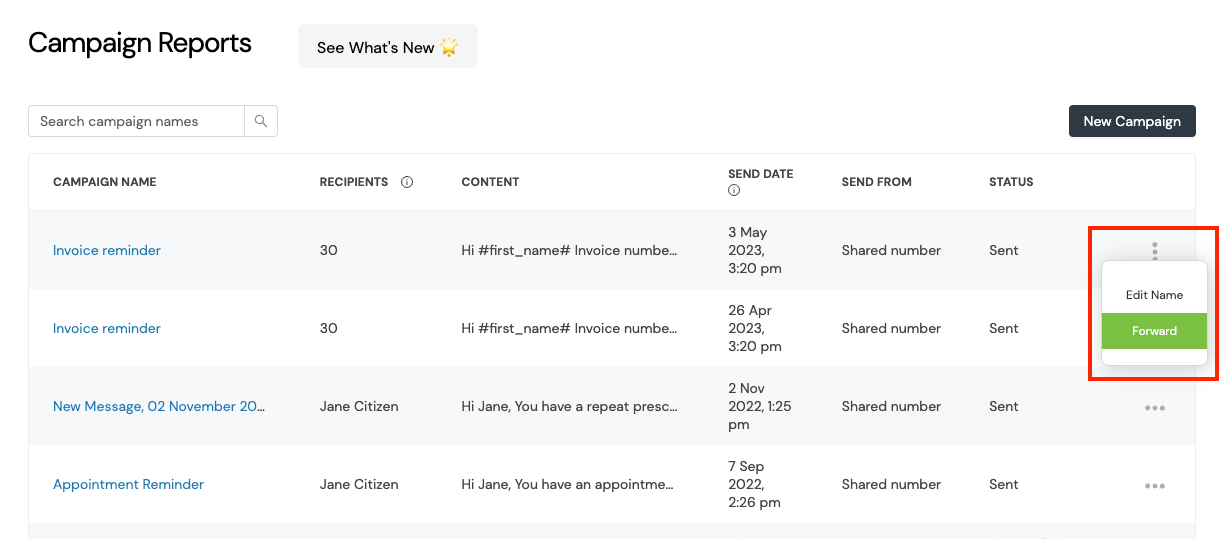 This will then open a new message screen with the content field pre-populated with the message you want to forward.
---
Important Things to Remember
If your messages aren't sending correctly, check these important things to see if there are any errors with your broadcast:
Ensure you have included the correct international code for your numbers. When sending to numbers local to your account location, you don't need to add the international code; however if you enter an international number without the correct prefix, the system wont recognise the number.
If you are copying and pasting numbers into the recipient field, the Web Portal will automatically add the international prefix of whatever country you have set as your default location, providing this prefix is not already present in the number

E.g. your location is set as Australia, and you are copying numbers from an Excel spreadsheet where the numbers are stored as "4xxxxxxxx" (i.e. the leading zero is missing due to the cell format), then the Web Portal will automatically paste these numbers into the recipient field as "+614xxxxxxxx"
If your location is set as the UK, then these numbers would be automatically pasted with "+44" as the international prefix