When you enable Decision Maker Connect, all SMS messages sent to individual contacts associated with a deal are visible within the deal record. This is super handy for keeping track of all the communications between key deal decision makers and any of your team members involved in the deal.
---
Activating Decision Maker Connect
Decision Maker Connect is deactivated by default as not every organisation needs it, however you can easily activate it yourself.
1. Log into your Zoho CRM dashboard and click on Marketplace.
2. Select the Installed tab and find the Smooth Messenger app.
3. Click on Configure:

4. Scroll down and click on the Advanced Settings heading to expand the setting options.
5. Locate the option for Decision Maker Connect and configure the following:
A) Check the box for Retrieve messages for linked records.
B) If applicable, check the box for Auto fetch data for contact roles (in Deals) - if you're not using contact roles in the Deals module, don't worry about checking this box as it uses extra API calls if you do.
6. Don't forget to click Save: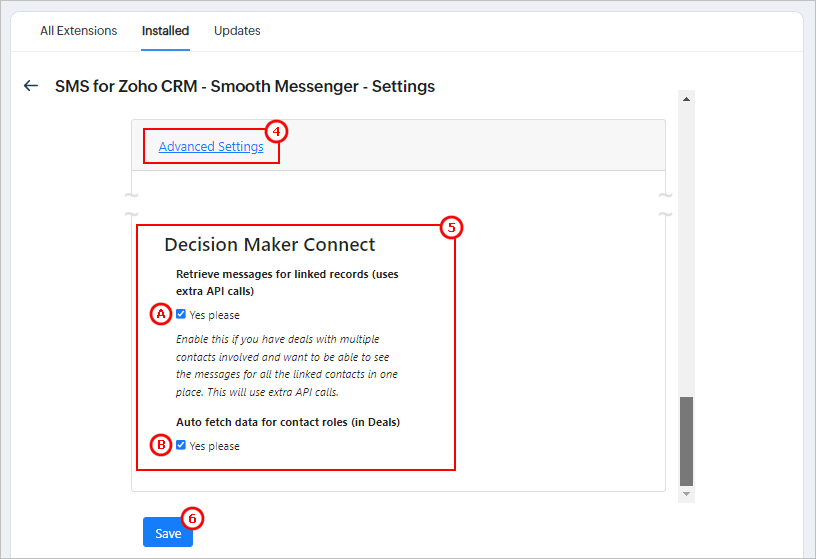 All done - now you'll be able to see messages that you've sent to the related contacts.
Using Decision Maker Connect 
Assigning Key Contacts
Now that you've activated Decision Maker Connect, you'll need to assign the key contacts to your deals so you can capture the associated SMS messages - there's two ways to do this:
1. If the deal only has a couple of key contacts, then you can nominate them as required in the Deal Information section:

2. For larger, more complex deals, there's likely multiple decision makers and specific stakeholders involved. You can keep track of all these contacts by setting up Contact Roles:

Note - If you're using Contact Roles in the Deals module, you need to make sure you've

checked the box

for Auto fetch data for contact roles (in Deals) - see step 5.B in the Activating Decision Maker Connect section above.
---
Filtering Messages
To view all the SMS conversations for a deal, just open the deal and scroll down to the Smooth Messenger section and click on the person icon: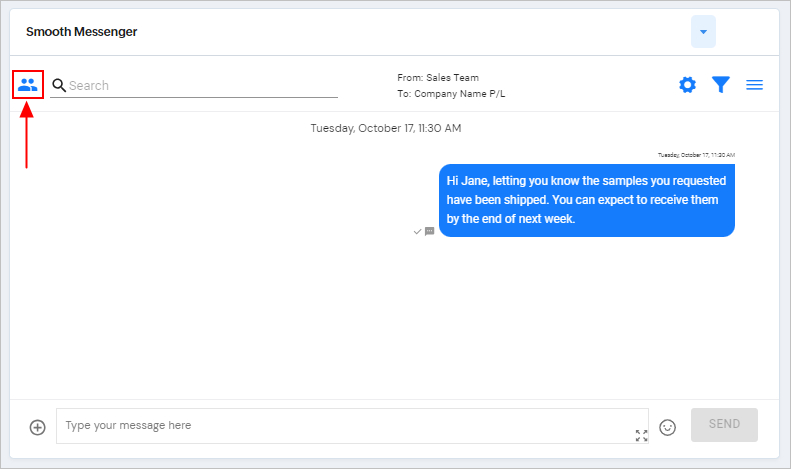 This opens a list of contact records linked to the deal where you can click on a name to switch between conversations: