Before you start using the Sinch MessageMedia app for HubSpot, there are some really important things to be aware of so you don't get any nasty surprises or headaches along the way.
Character Limits
The cost of your messaging depends on how many messages you send, and the number of messages you send is influenced by how many characters you use to write them. So, it's essential that you understand the circumstances where SMS character limits vary.
You can read about this in detail in this article, but putting it simply, if your message contains "special" (a.k.a. "Unicode") characters (e.g. Emojis), then the character limit per message drastically reduces.
When you're sending messages to a contact, the app is able to detect Unicode characters as you're writing your message and will alert you: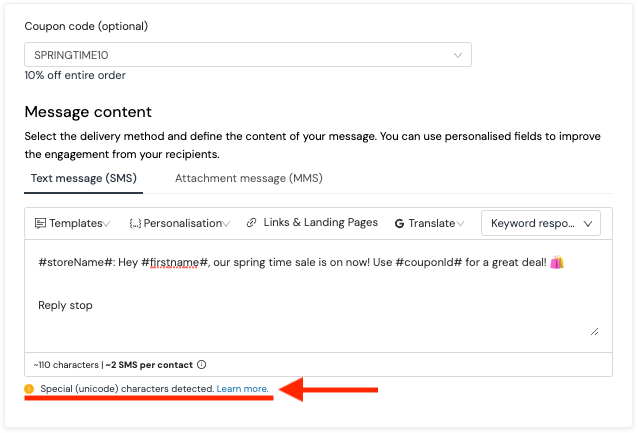 Reporting on cost per SMS
When you send a campaign or set up an abandoned cart automation, we'll provide you with valuable reporting on ROI and conversion. Because your cost per SMS can vay based on a number of factors - including plan size and messages sent - we've provided an option for you to make sure your cost per SMS is accurate to your account. 
Here's how to ensure accuracy in reporting:
1. Go to Extensions (the four squares icon on the left hand navigation menu) then Integrations:


2. Now, click on the connected Shopify tile at the top right

3. Finally, select the currency your Sinch MessageMedia plan is set to, then insert your rate per SMS and click Update


Congrats, now all of your reporting will be accurate and up to date!