Before you start using the MessageMedia app for NetSuite, there are some really important things to be aware of so you don't get any nasty surprises or headaches along the way.
---
Character Limits
The cost of your messaging depends on how many messages you send, and the number of messages you send is influenced by how many characters you use to write them. So, it's essential that you understand the circumstances where SMS character limits vary.
You can read about this in detail in this article, but putting it simply, if your message contains "special" (aka Unicode) characters (e.g. Emojis), then the character limit per message drastically reduces.
---
Conversations
When you're sending messages to a contact using the Conversations feature, the app is able to detect any Unicode characters in the message body so you'll clearly see the effect on the character limit and SMS credits before you click send: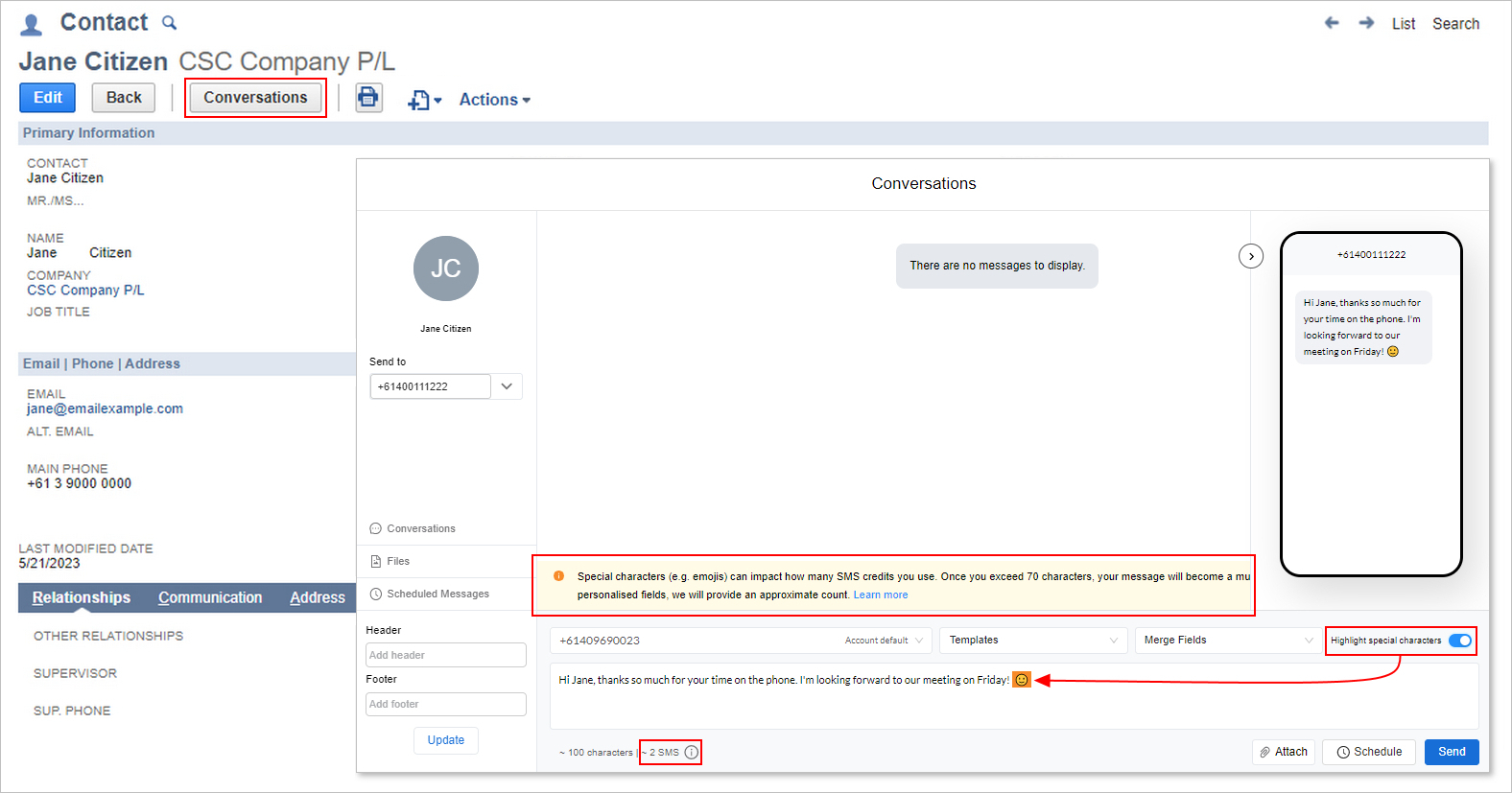 Important - when using Merge Fields, the character number displayed is calculated by counting the characters in the merge field name,

not

by counting the characters retrieved from the merge field data. Please be aware that this will return an inaccurate character count.
---
Single SMS
When you send a Single SMS, you'll be able to keep track of your character limit using the character counter underneath the message preview window, just click on the Preview SMS button every time you write or edit your message: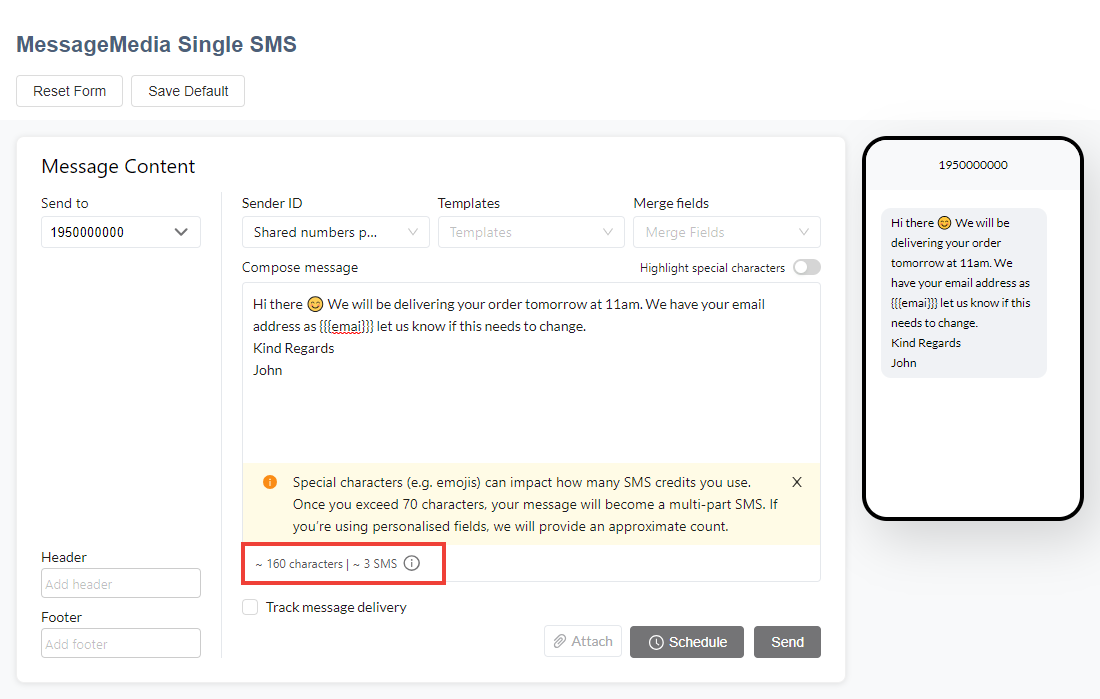 ---
Batch SMS
When you send Batch SMS, you'll also have a message preview window, however the character counter will only provide an approximate number of characters used. This is because batch SMS typically use merge fields and the actual number of characters used for that field will vary between recipients, depending on the data in each contact record: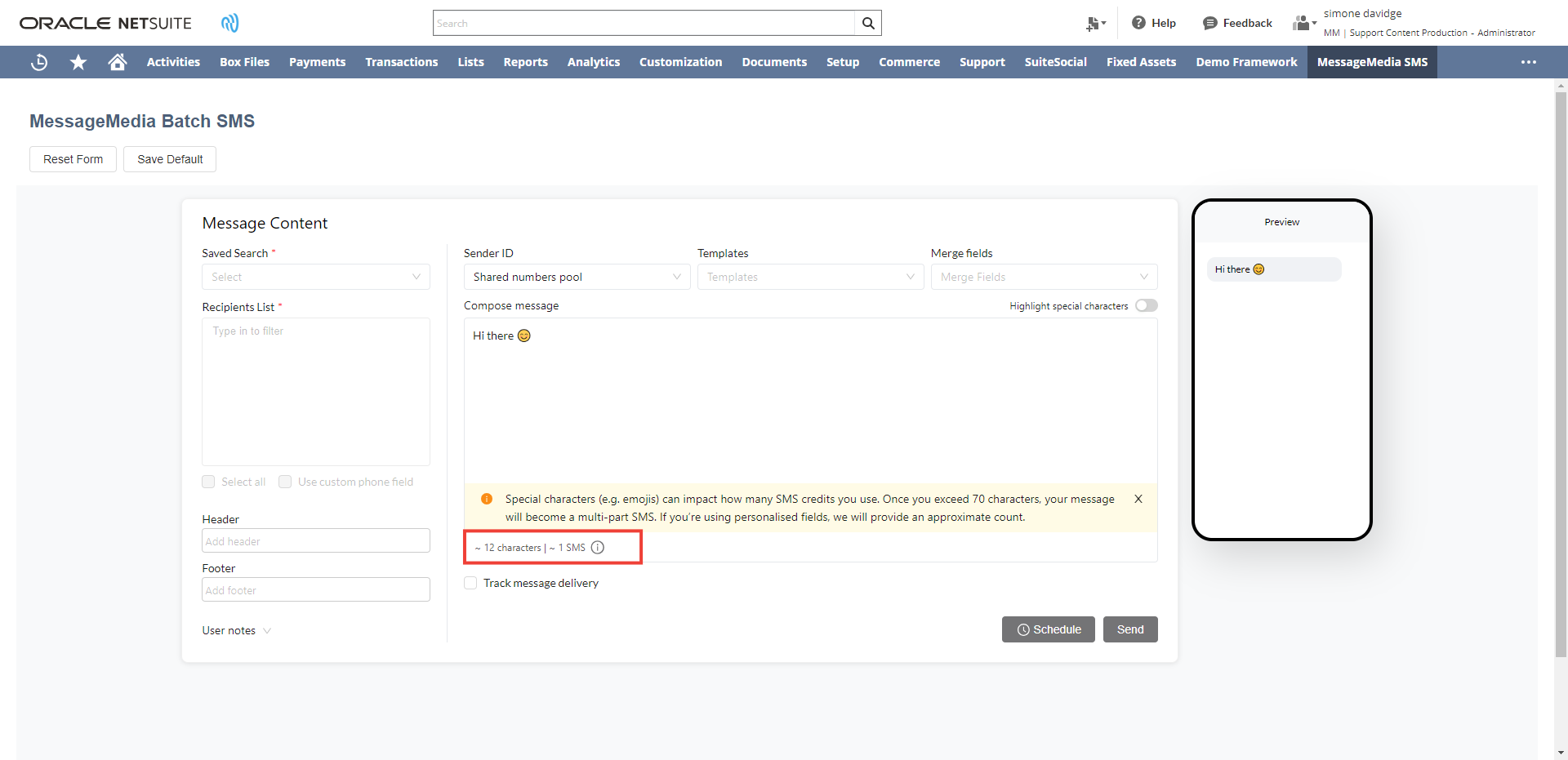 Important - when using merge fields in Batch SMS, even though the SMS preview approximates the message only requires one credit, the actual number of characters from the merged data may exceed the character limit, with the message now requiring 2 (or more) credits per recipient. This can very quickly add up when sending batch/bulk SMS.
---
Templates & Workflows
When adding SMS messages to Workflows, you're only able to select a message from your SMS Template library, rather than create a message ad-hoc in the workflow builder itself. Because there's no preview function when you create an SMS template, there's no character counter to help you keep an eye on your character limit:

Note - we recommend drafting your message templates in the compose window for Single or Batch SMS so you can monitor character limits via the preview SMS function. Then when you're happy with the message, just copy, paste, and save it to your template library.
---
So as you can see, you really need to pay attention to the content of your messages and be very clear on the character limits involved. Otherwise, you might get a nasty shock when you receive your invoice 😬.