Templates help you save time, stay consistent with your messaging, and reduce the risk of typos if you're frequently sending the same type of messages to multiple contacts (e.g. appointment reminders). 
Here's how to set them up:
1. Access the SMS for Dynamics app and click Templates in the navigation pane: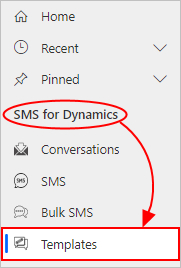 2. From the Templates page, you can create a new template: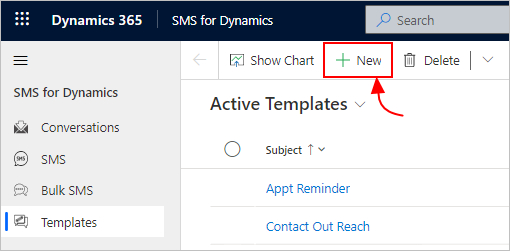 There's no limit to the number of templates you can create.
3. Once you've clicked New, you need to include:
Name - for example, 'Customer Survey'.
Targeted At - are you sending this template to Accounts, Contacts, Leads or Users? This needs to be selected due to personalisation.
Sender ID - select a specific sending number by using the dropdown arrow, or leave it to send from the default sending number. For help configuring your Sender IDs in SMS for Dynamics, see this article.
Message - your message content - for example, 'Hi, you have an appointment...blah blah blah'
Insert Field - in the message content box, you can add personalisation, such as the recipient's first name or company name, j

ust remember to make sure that the fields you add to your message actually have data in them in the contact profile.

Character Counter - use this to see how long your template is. It's important to note that the character counter can be inaccurate after adding in message personalisation (because the counter can't predict the number of characters in the value the personalisation field gets populated within your message).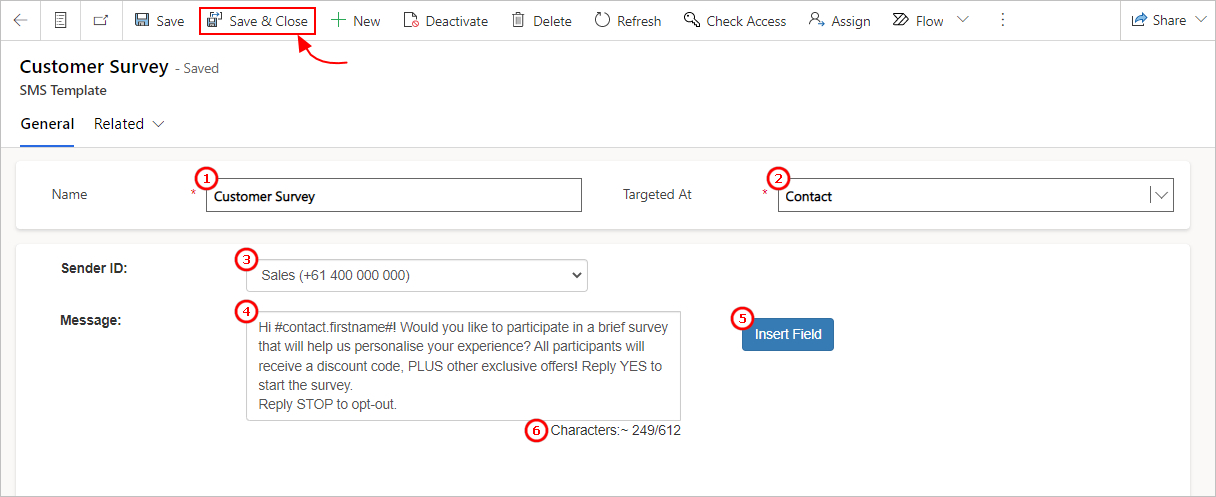 4. Once your template is finished, click the Save & Close button.
5. To edit or delete an existing template, just check the box next to the template name, and then select Edit or Delete:

Important Note - if you're having a clean-out and deleting templates, just make sure there are no workflows still using them before you delete them.