The easiest way to send an SMS message is from a Contact, Account, User or Lead's record.
1. First you need to select the contact you want to send a message to:

2. In the Contact's Timeline, you can click the + and then SMS to send them an SMS:
3. Now you can create your message:
If you load a Template, the Subject and Message will automatically pre-populate, or you can type these yourself.


Note - The Subject will not be included in the SMS, it will only appear in the Timeline so you can easily see what the message was about. 

Select a specific Sender ID by using the dropdown arrow, or leave it to send from the default sending number. For help configuring your Sender IDs in SMS for Dynamics, see this article.
If you need to add personalisation, you can do this by clicking Insert Field. Just remember to make sure that the fields you add to your message actually have data in them in the contact profile.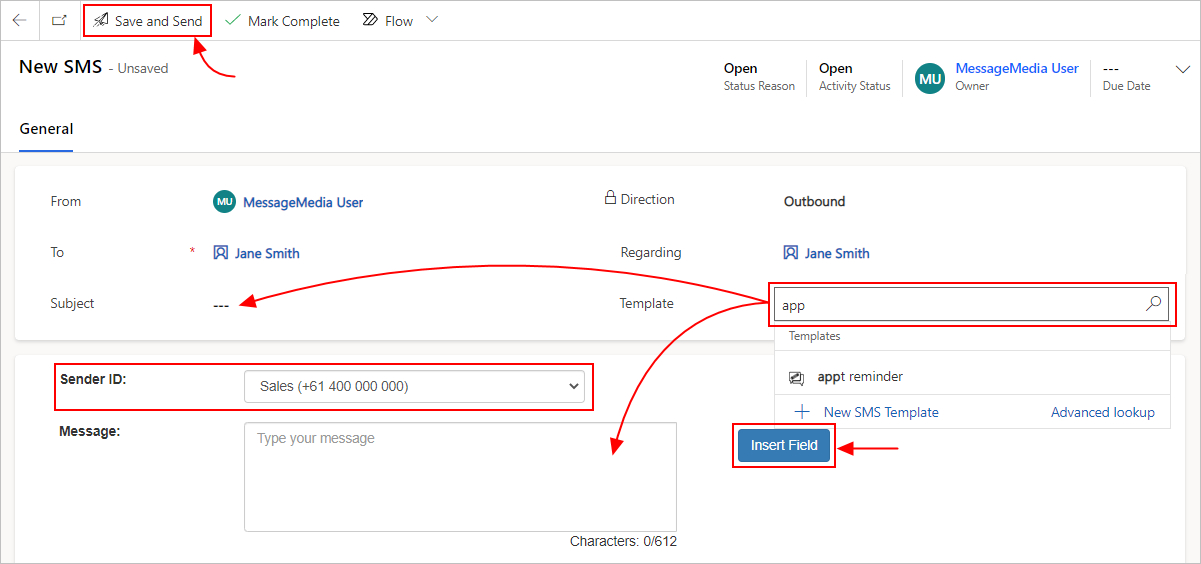 Note - when searching for a template, it will search for what the template begins with. If you'd like to search for 'Appt Reminder' by using 'Reminder' as your search term, you'll need to use an asterisk on either side, eg. '*Reminder*', for the search to work.
4. Click Save and Send to send the SMS. The Activity Status and Status Reason will update once the message is sent, and will show if the message was delivered or not.
Note - the system can't tell you whether or not a message has been read by a recipient, only that it has been successfully delivered.