There are 4 security roles in SMS for Dynamics:
1. Admin - An admin can use the full functionality of SMS for Dynamics across the organisation. They can also update the settings in Configuration.
2. Service - This role is for the 'application user' (for the app service itself to access the organisation to create records in Dynamics). This is not a human user.
3. User - A user can send and receive messages but will not be able to edit the Configuration.
4. Read-only - A read-only role can read sent and received SMS messages but will not be able to send SMS messages to anyone.
How to assign security roles to users:
1. Go to Settings by clicking the cog in the top right corner, then select Advanced Settings: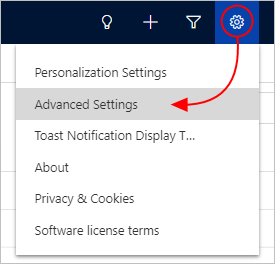 2. Click the Settings dropdown, then Security and select Users:


3. Select the user you want to assign a role to and click Manage Roles:

4. Select the role you'd like to assign, then click OK: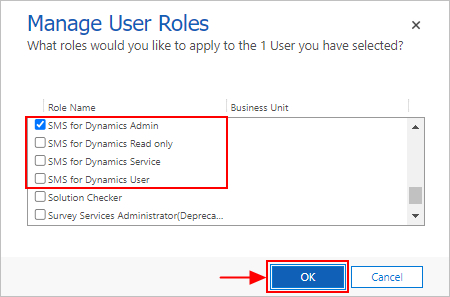 You can repeat this process for any users that you want to assign roles to, and revisit it at any time if you get new users on board.