Create your own workflow rules for automated SMS or a

system that delivers SMS automatically, j

ust follow the steps below...
---
1. Use the cog icon to open the Settings page for Zoho CRM.
2. Locate the Automation tile and click on Workflow Rules: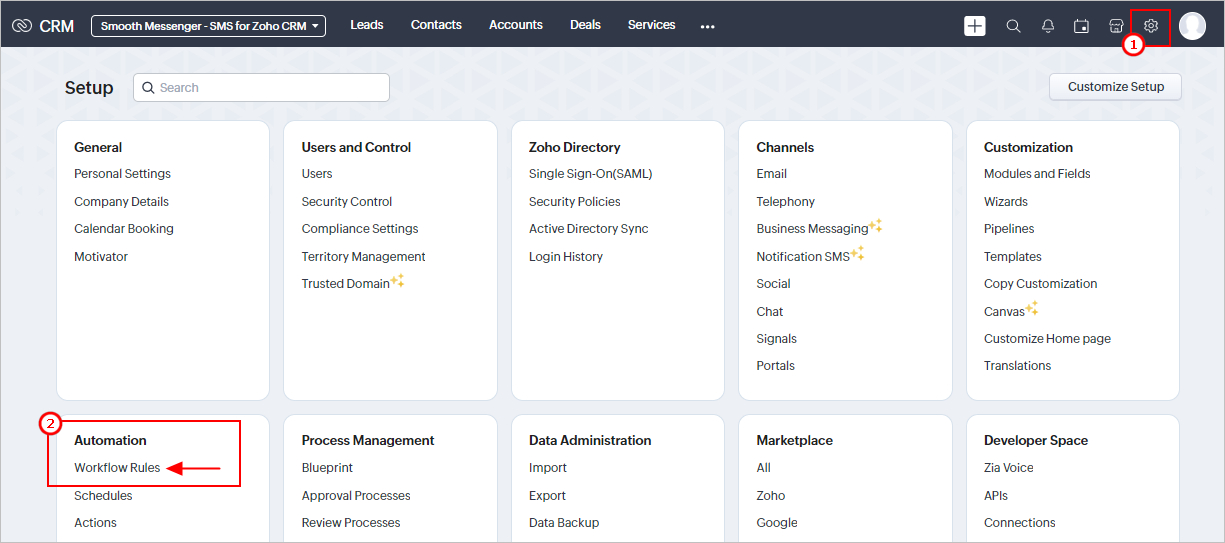 3. Click on Create Rule:

4.
Now you'll need to enter some details before you can
Create a New Rule:
A) Module - use the dropdown box to select a Module where this workflow is to take effect, for example Leads.
B) Rule Name - set a Rule Name, for example Welcome SMS.
C) Description - this field is optional.
D) Then click on Next.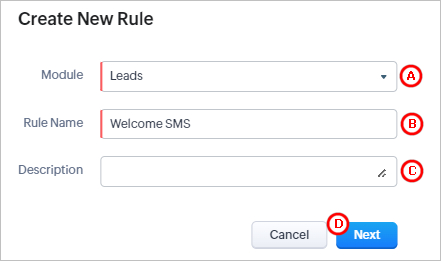 5. Now choose when you want to execute the rule. In this example we want to trigger an SMS when a new Lead is created, so we'll select On a record action, and Create.
6. Then click on Next: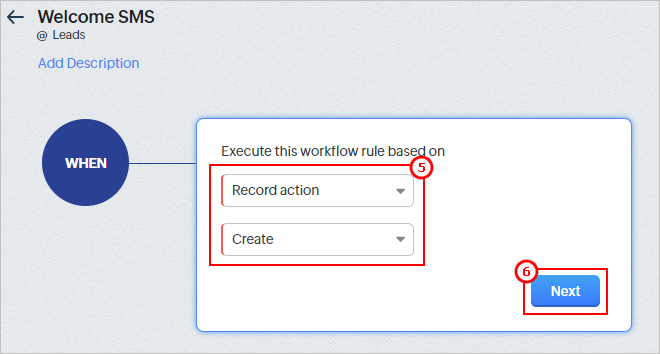 7. Now you need to decide if you want to include any Conditions to the workflow, for example, here we've selected Leads matching certain conditions and chosen to run the rule where the Lead Status is Not Contacted (this means that our SMS will only be sent to fresh, new leads who haven't received any communication from us yet).
8. Then click Next:

9.  Instant Actions will now appear underneath. Click it and select Send Smooth SMS from the dropdown: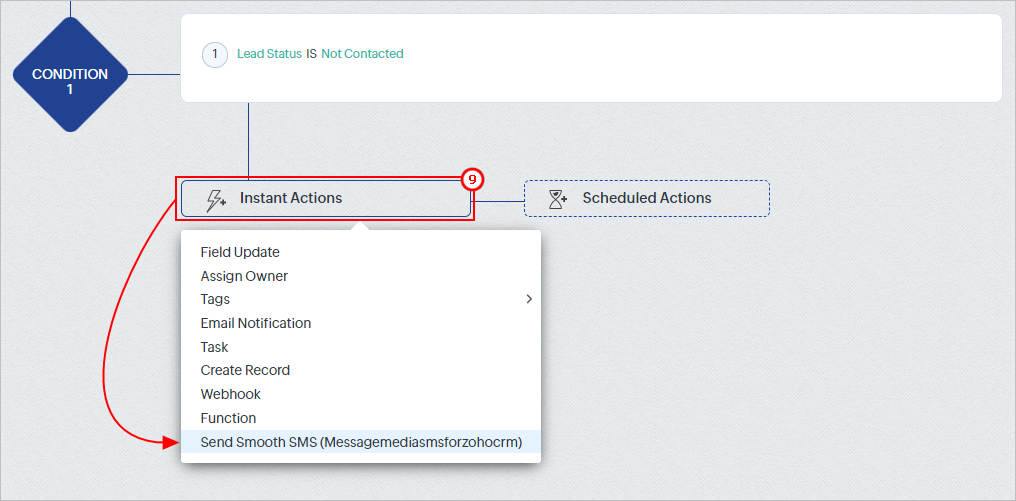 10.  Now you can start configuring your SMS workflow: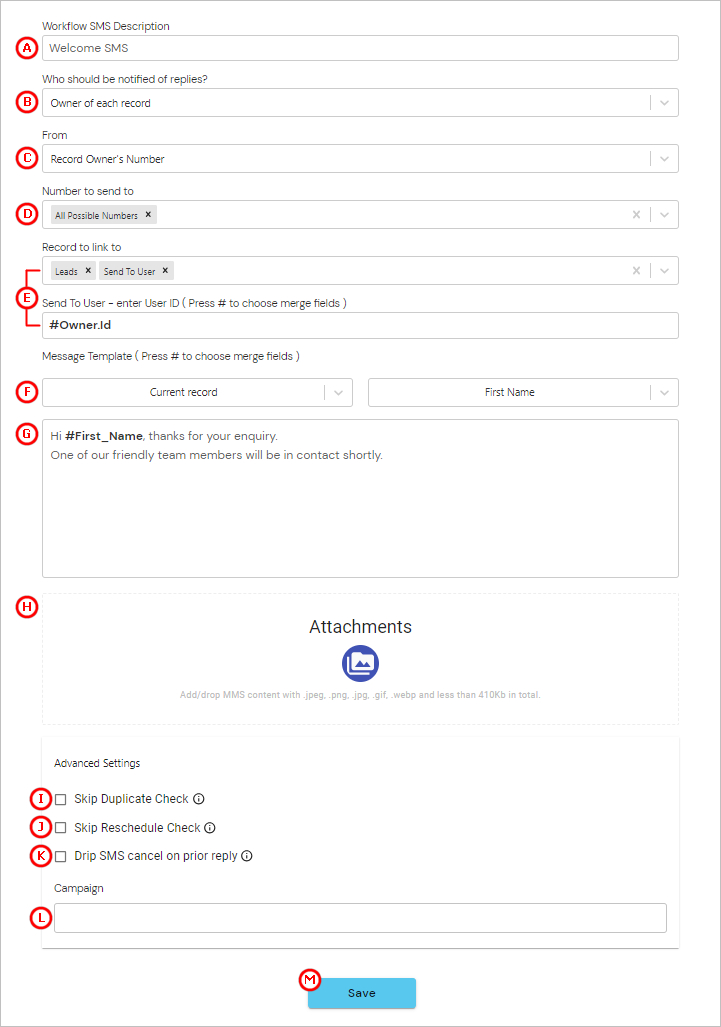 A) SMS Description - we've called our message Meeting Details SMS.
B) Reply Notification - by default, this field will populate with Owner of each record. Use the dropdown to select Me if you (the user creating the workflow) would like to receive all reply notifications.
C) From Number - by default, this field will populate with Record Owner's Numbers. Use the dropdown to select a different sender ID number to send your message.
D) Recipient Number - by default, this field will populate with All Possible Numbers. Click on the X to remove the nominated option, then use the dropdown to select which record number field to use, for example "Mobile".
E) Record to Link to - this field is used to identify where to log workflow activity. By default, this field will populate with Leads, which will log any activity on the lead record.
Use the dropdown to add Send To User and the below field will automatically populate with #Owner.Id. This also links the assigned record owner so they'll be notified of any messaging activity, for example when a reply is received.
F) Merge Fields - use these dropdown menus to populate your message with merge fields. 
G) Message Template Window - this is where you create your message.
H) Attachments - add/drop MMS content with .jpeg, .png, .jpg, .gif, .webp and less than 410Kb in total.
I) Skip Duplicate Check - by default, duplicate messages are blocked from being sent to the same number. Keep this box unchecked to continue blocking duplicate messages.
J) Skip Reschedule Check - a reschedule check is a setting that holds a message from being automatically sent outside a predetermined time frame, for example outside business hours. Checking this box means that if the workflow is triggered outside business hours, the message will send, which isn't ideal if this happens at 3am. Keep this box unchecked to ensure this doesn't happen.
K) Drip SMS cancel on prior reply - If you're sending an automated Drip SMS Sequence, checking this box will stop any subsequent drip messages from sending if the contact responds.
If you're sending to a large volume of recipients, it might be a good idea to stagger your send - particularly if you're forwarding the replies to a mobile, or want to be able to manage replies via the inbox. This is so that you don't inadvertently become inundated with responses all at once.
L) Campaign - if applicable, you can include a campaign name in this field.
M) Save your workflow configuration.
11. Give the Instant Action a name and click Save and Associate:

You also have the option to create a Scheduled Action to follow your Instant Action - for example, you might use this to send a follow-up message the day after the first message was sent.
12. Click on Scheduled Actions and choose how many Hours, Days, or Minutes after the Instant Action you'd like to trigger the Scheduled Action, then click Next:
Note - The Scheduled Action will only trigger if Condition 1 remains "true". Using our example condition Lead Status is Not Contacted, if the lead

isn't

contacted within 1 day from the Instant Action triggering (Welcome SMS), then the Scheduled Action (Follow Up SMS) will trigger. If the lead

is

contacted and their status is updated, the follow-up message won't send.
13. Next, click Add Action and select Send Smooth SMS from the dropdown:

14. Now you need to configure the Scheduled Action, and because the configuration fields are the same as for the Instant Action, just follow the same process for Step 10.
Note - Remember to change the message content! Given it's a follow-up message, it's worthwhile to write something different to your welcome message because this will make the experience more personal for the recipient. 
15. Give the Scheduled Action a name and click Save and Associate - just like in Step 11.
16.  Lastly, activate your workflow by clicking Save in the bottom left corner: