There are a few additional settings to make sure that Mercury SMS is set up to function the way you need it to.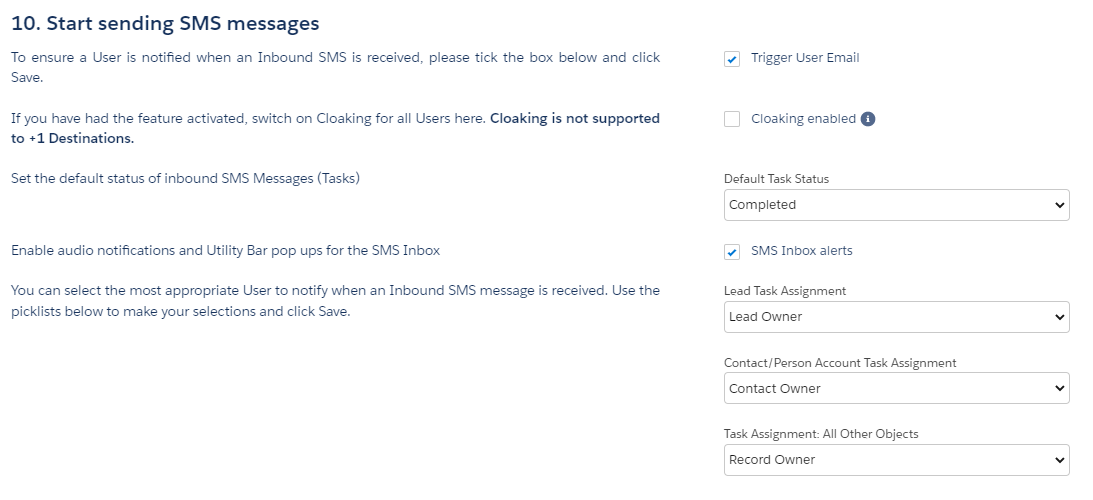 Trigger User Email
This setting allows you to determine whether or not you would like to send an email to the owner of an inbound text message. This is in addition to them being assigned a Task). If you would like Users to be notified via email, then set this option to TRUE and click Save.
Cloaking Enablement
If you have requested MessageMedia to enable the cloaking feature, which enables you to cloak an outbound message as if it were being sent from your own mobile number, then you will need to set this option to TRUE and click Save.
Default Task Status
The Default Task Status allows you to specify the Status value to be applied to Inbound SMS Tasks. This will determine whether or not the Task is created as an open or closed Task. The specific values available will depend on your individual customisations, but will be all values in the Task Status picklist.
SMS Inbox Alerts
If you are using the SMS Inbox (please refer to the 'SMS Inbox' section later in this User Guide), this setting allows you to specify whether you enable audio notifications and Utility Bar pop ups. If this setting is TRUE, when a new inbound SMS is received for the User, the SMS Inbox will 'pop' open in the Utility Bar and play an audible chime to notify the User of the inbound message.
Inbound Task Assignment
When an inbound SMS is received, Mercury SMS will create a Task to record the activity against the record is relates to, or if no match can be found then to the Orphan Message Owner. The Task assignment section allows you to specify which User should be assigned the inbound SMS Task for Leads, Contacts and Other Objects. The choices are as follows:

Record Owner: The owner of the record will be notified
Last Modified By: The last User to modify the record will be notified
Last Message Sent: The last User to send an outbound SMS message for that record will be notified
And that's it! Mercury SMS is now configured and you're ready to start sending and receiving text messages inside Salesforce.