There's no limit on the number of characters you can send in a message. However, we recommend keeping your message short to avoid using multiple SMS credits per message.
Each message credit allows for up to 160 characters.
When a message exceeds the limit, it'll be split into separate packets.
The last 7 characters of the message contain a unique ID that enables the packets to be re-assembled into one message on the recipient's device.
Examples:

A 72 character message will use 1 SMS credit = 72 characters
A 200 character message will use 2 SMS credits = 153+7 and 47+7
A 320 character message will use 3 SMS credits = 153+7 and 153+7 and 14+7
---
The number of characters and SMS credits used in your message are displayed underneath the message composition area as shown below: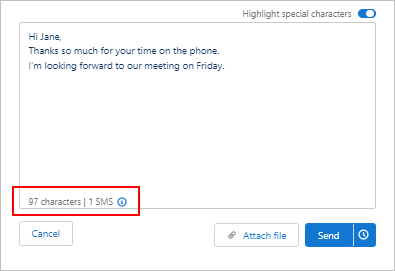 Unicode characters can have a big impact on the number of credits used in a message. The inclusion of a single emoji can increase the number of SMS credits used from 1 to 2, even though the character counter still shows less than 160 characters. You can learn more about character limits in this article.
Luckily, you'll be alerted if your message includes any Unicode characters and you can use the toggle to highlight any special characters so you know exactly where they are if you want to remove them.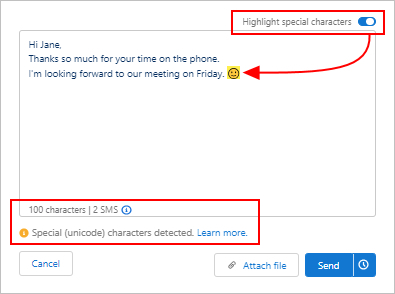 Note - when emojis or special characters are included in a message, the limit is reduced to 70 characters per SMS credit, or 67 per packet if the entire message exceeds 70 characters.