When you're sending SMS messages as part of your workflows, it's important to keep on top of any replies by enabling notifications for inbound messages.
---
Select the type of notification you'd like to set up:
HubSpot In-App Notifications for Contact Owners
If you're the contact owner, you can receive HubSpot In-App notifications when a contact responds to your SMS message within HubSpot.
1. Start by creating a new Contact-based workflow:
2. Set your trigger as SMS for HubSpot: SMS received:
3. Set your workflow trigger as Occurred:
4. To start the workflow from today, set the Occurred date to is after and enter yesterday's date, and then click Apply filter: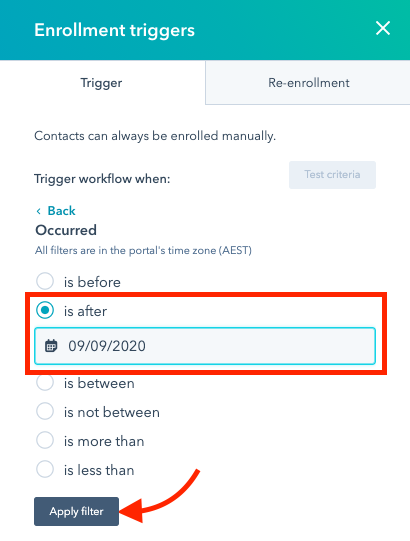 5. Now click Save: 
6. Add an action and set it as Send in-app notification:
7. Configure the notification action as follows:
A) Send to existing owners - select Contact owner as the notification recipient.
B) Send notfication via - select In-app alert.
C) Subject - enter a relevent subject, such as SMS Received.
D) Body - create a relevent notifciation message, for example "SMS Received from..." then you can add merge fields such as Contact: First Name and Contact: Last Name.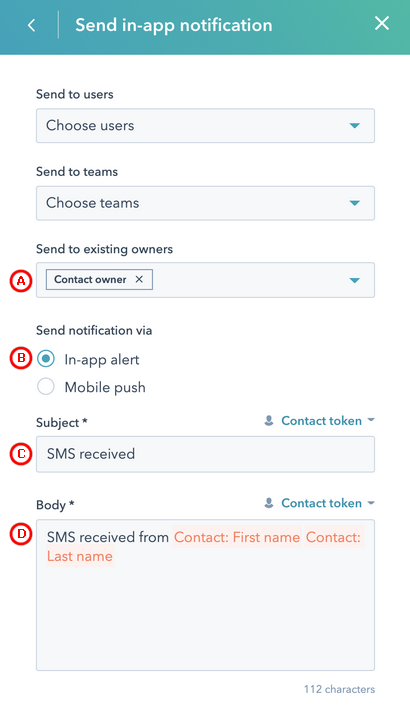 8. Click Review.
9. Ensure that Enrolment only applies to contacts who meet the trigger criteria - for examle, contacts who have sent an SMS to you:
10. In the Re-enrolment section, click Edit and set re-enrolment to allow contacts who meet the trigger criteria to re-enrol after yesterday's date:
Now, just turn your workflow on and you'll start receiving inbound notification messages via the notification bell in HubSpot.
Email Notifications for the Message Sender
Whether your sending a direct message in HubSpot, or sending SMS messages as part of a workflow you've created, it's important to know when you receive a reply. Even if you're not the contact owner, you can still receive and email alert when a contact responds to your message so you can stay informed and swiftly respond to your customers.
---
To receive an automatic email notification if a contact replies to your direct message, you need to activate this feature by navigating to the Integrations page > HubSpot Tile > Settings Tab > then check the box for Receive email notifications when a contact replies via SMS.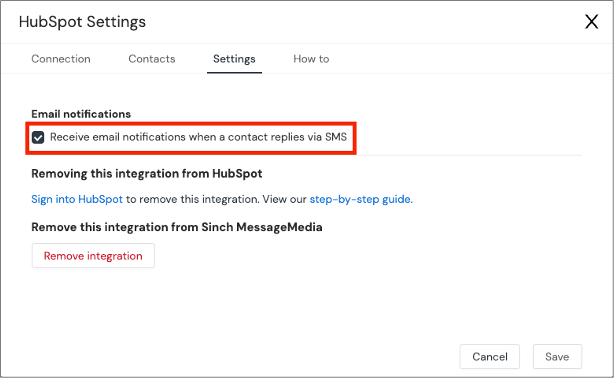 ---
To receive an automatic email notification for replies to a message sent as part of a workflow, you need to nominate a User to the Owner field when you configure the workflow. This means email notifications will be sent to the workflow owner upon receiving a reply from the recipient: