You can export a report of messages sent and received by completing the following five steps.
---
1. In the menu, click on the

icon, then select Detailed Reports.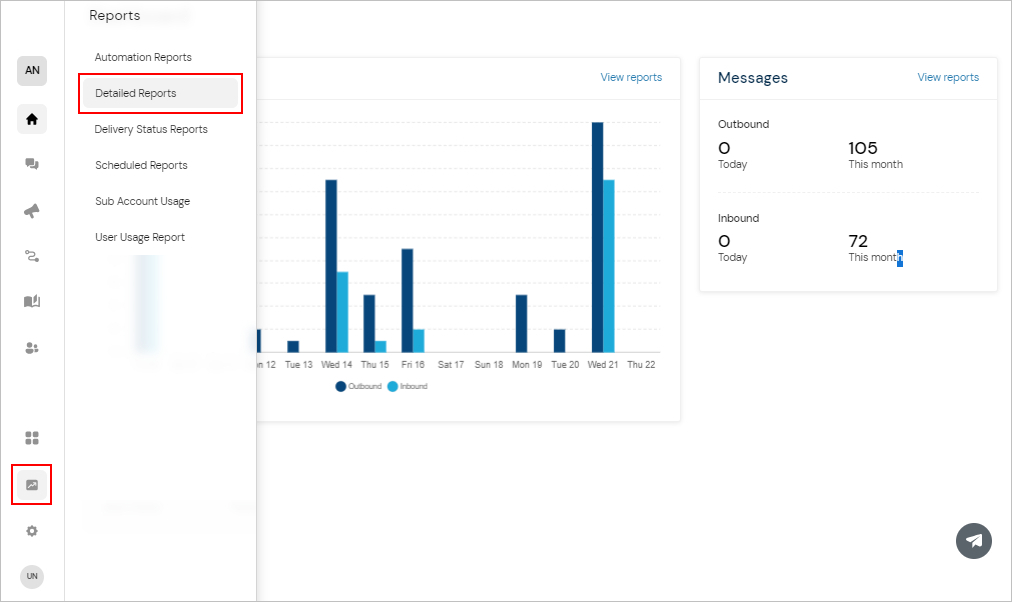 2. Select the relevant date range and other filter parameters.
3. Click on the Email report button- this will only appear if there's data available for the date range specified:
4. Select the required parameters in the resulting modal:
A) Date range - select the date range of the data you wish to include in your report.
B) Accounts - select which account(s) you'd like to include in your report.
C) Status - you can select all to include messages with any status in your report, or you can specify a status if you'd like a more focused report
D) Contact - you can also report on messages to/from a specific contact name or number, just start typing the contact name or the number (including the international formatting).
E) Message direction - select Sent, Received, or both.
F) Report recipients - enter the email address of up to five recipients to receive the report.
G) Advanced parameters - you also have the option to specify which reporting fields to include in the CSV file, as well as choose the time zone,
H) When you've configured your report parameters, click on the Email Report button - outbound and inbound logs are generated separately so if you have data in each table you will receive two separate emails with a CSV file in each.