To use mobile landing pages you must first be on a post-paid plan. Please get in touch with our account management team if you would like this feature added to your plan.
What exactly is a mobile landing page?
Mobile landing pages are a great way to extend your SMS journeys. In just a few steps, you'll be able to send a personalised web page to each of your recipients, with each page containing a "Call to Action" (such as booking an appointment or making a purchase) – or in some cases, a unique trackable barcode (e.g. for a voucher or a ticket). When recipients visit your pages, analytics data such as click rates are collected to help you measure the effectiveness of your campaigns.

You can also customise your landing pages with your own logo, imagery, text, and actions. This document will walk you through the steps you need to follow in order to send your very own Mobile landing pages.

For useful tips on preparing the content for your mobile landing page, view this article
 
1. Accessing the feature
Once you have the feature activated on your account, go to Extensions > Power-Ups and click Manage in the Mobile Landing Page section:


If you have previously configured any landing pages, they will appear in a list at the top of this page.
2. Choose your template
Scroll through the template options and click on "Use Template" under the template you wish to customise by clicking "Use template"
3. Upload your Media
Drag and drop (or use the "Browse" function) your header and logo images into the upload box, and add the URL to which you would like customers o be directed when clicking on your logo. There are placeholder images in place which you will need to remove to upload your own. Do this by clicking "Remove" in the upload field. The preview viewer on the right-hand side will update in real-time.
TIP: You can also upload moving GIF files to make your landing pages even more captivating!
4. Customise your copy
Use the text boxes to edit your headline and body copy. You can add personalisation to these fields by using variable fields such as #firstname# to address the content to each recipient by name. Note that personalised fields in the landing page script will only work if you are sending to saved contacts. If you upload a CSV or Excel file of contact data into the recipient field to send your landing page, the personalisation fields in the landing page script will show up blank. Any personalised fields in the accompanying SMS message WILL work however, provided they correctly reference the column headers in the uploaded data file.
For information on adding additional formatting to your body copy (e.g. bold, italics and spacing), read this article
5. Customise your buttons and/or barcode
The "Call to Action" (CTA) buttons can be customised in terms of both the text they contain and the URLs to which they point (i.e. where the recipient will be directed when they click on a button). You can also use personalisation in the button text if required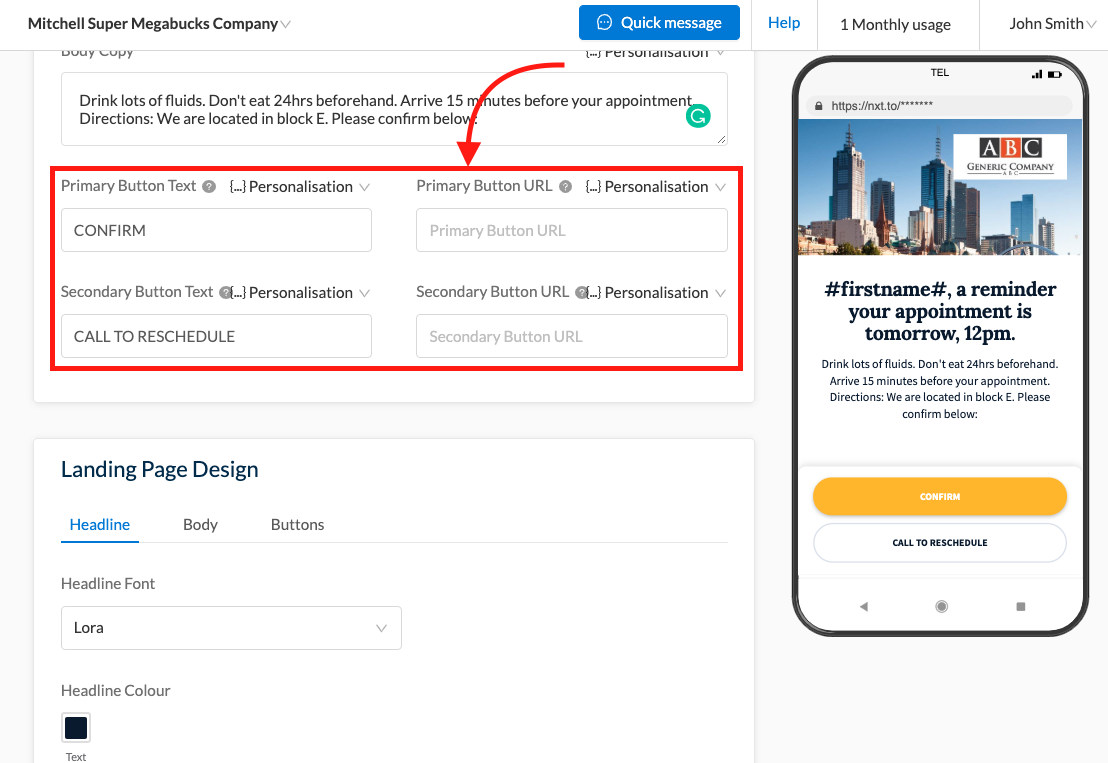 Creating "tel:" and "sms:" links as your call to action (CTA):
If you want your customers to call or text your business, use the link format "tel:1800123456" or "sms:1800123456" in your CTA link (and replace 1800123456 with your business phone number). If you send to overseas customers, make sure to include a country code (e.g. "+6412345678")
Creating "mailto:" links as your call to action (CTA):
If you want your customers to email your business, use the link format  mailto:example@email.com in your CTA link (and replace example@email.com with your business email address).
For information on creating "sms:" and "mailto:" links that pre-populate message content, read this article
Barcodes:
If you have selected a template which includes a barcode, then you need to enter the barcode data here as well: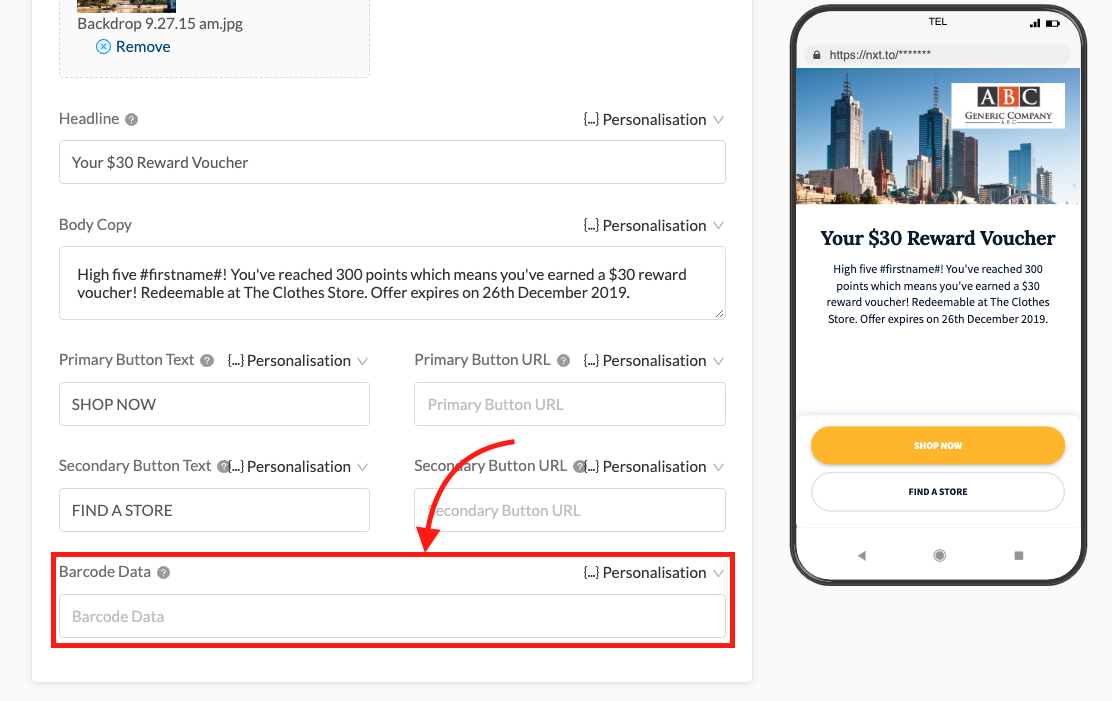 6. Format your design
Select the font styles and colour for your headline, body, and buttons by clicking on each tab and selecting from the drop-down font list and colour pallette: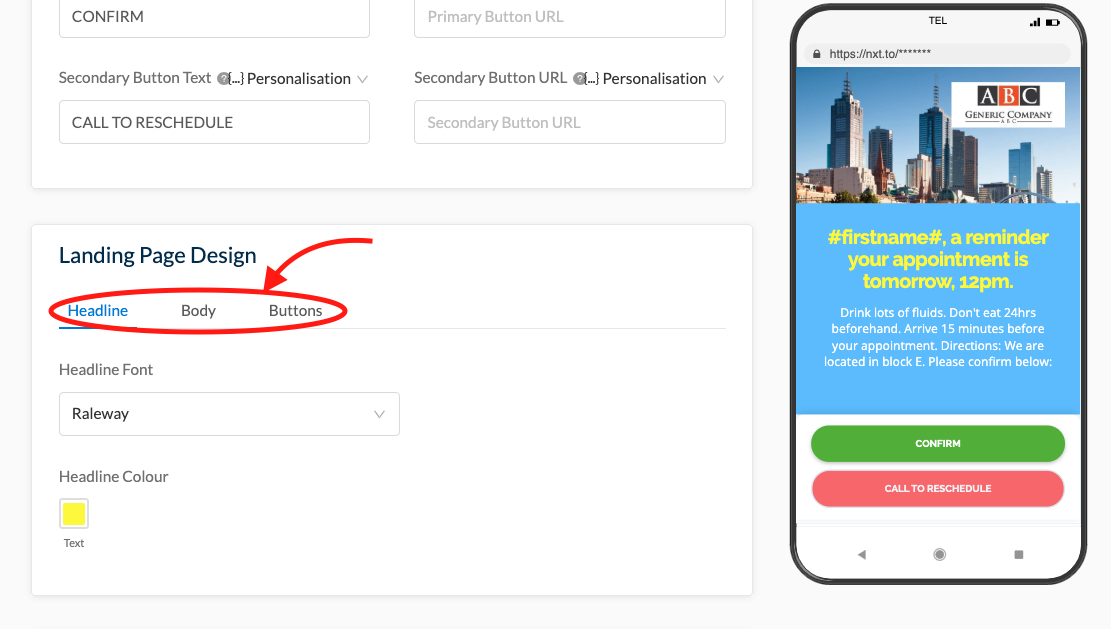 TIP: You can toggle between "HSL," "HEX," or "RGB" colour codes by clicking the arrows as shown, and enter values in the fields displayed. This is especially helpful if you need to colour-match to brand guidelines:
7. Save your design
If you just want to save the template for later use, click on "Save & Close". If you wish to proceed to send your landing page to a target recipient list, click on "Save & Add to Message"
8. Sending your Landing Page
Just like sending a normal message, either choose your contacts from your address book or upload a CSV, and then write your message. Once again, the preview on the right will update as you compose your message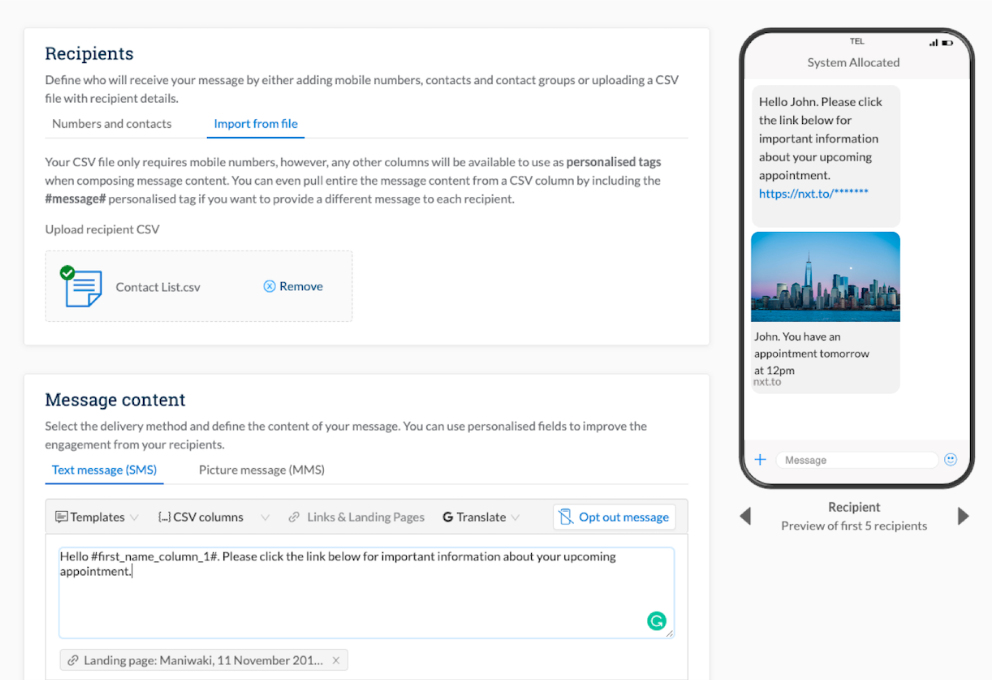 If you want to remove the landing page link from your message or want to change which mobile landing page to attach, click the small X on the right hand side of the pill:
Once you are happy with your message, you can either send yourself a test message by clicking "Send Test" in the bottom right. If using this option, you will be prompted to add dummy data for the personalised fields, as well as a target number(s) to receive the test message:
To send your message to your recipients, click "Send Now"