The Link Preview feature allows you to set a title and image for links that will display on a handset when your SMS is delivered.
Important - if you can't see the Links & Landing Pages button in the message builder, it means this feature isn't enabled on your account yet. To get this feature activated, you can submit a support request and our team will help you out.
---
How to Use Link Previews
Start by preparing your message as you normally would by adding the contacts and your message content. If you're unsure how to do this, you can check our Sending Messages article.
Don't add your link to the message content

- follow the steps below to configure your Link Preview.
1. Once the contacts and content have been added, tick the Links & Landing Pages button in the Message content field:


2. In the resulting modal, click the Link Preview tab.
3. Enter the full Link address (URL) that will be shortened - this is the destination URL you want the recipient to redirect to when the link is clicked.
4. Enter the Link preview title that will show for the link preview - for example, a company or website name.
5. Upload a Link preview image that will display in the link preview - this step is optional. If you do want to include a link preview image, it must be less than 300kb, and we recommend the size be 900px by 474px in .png, .jpg or .gif format.
6. Once you've entered these details, click the Add button and your link preview will appear as an attachment to your message: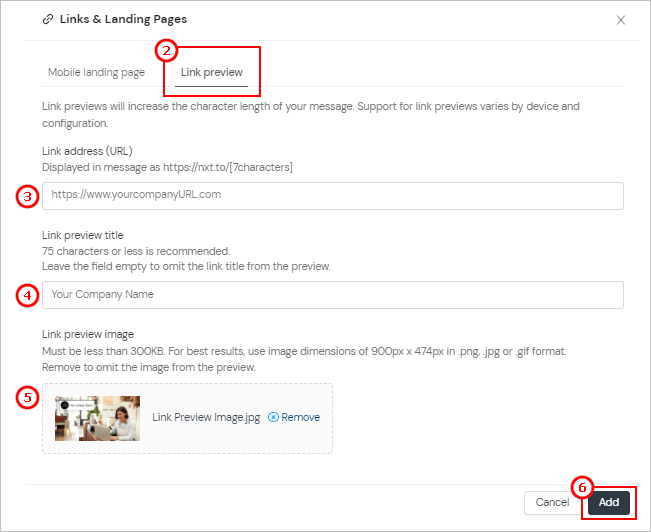 7. Now you can send your message! Here's an example of what your message will look like:
Message Example:

with

a Link Preview Image
Message Example:

without

a Link Preview Image
Note - displays may vary for each type of device depending on whether the operating system is iOS or Android.
8. If you need to remove the Link preview, just click on the cross next to the link name: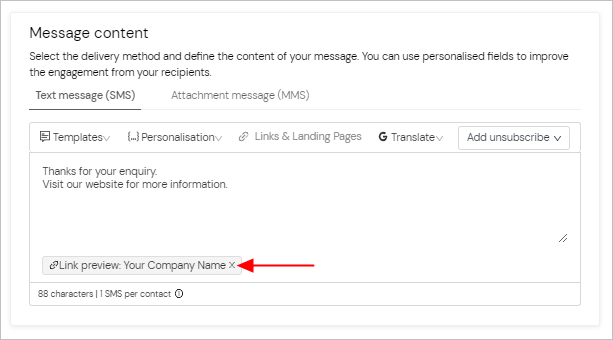 Things to Remember
Link Previews act differently depending on the device's operating system - so whether it is iOS or Android. For both devices, the Link Preview will only display if the following requirements are met:
You'll need a dedicated number or familiar sender setup on your account.
Recipients need to have the Sender ID Number saved in their contacts - this means you should only send Link Previews from a dedicated number associated with your Hub account so that your recipients can save it. Sending from the shared numbers pool selects a random number from the Hub's gateway, making it unrealistic to expect recipients to save the number - there's just too many!
The Sender ID must be numerical - it can't be a registered Alpha Tag or business name.
If you're already using the Links & Landing Pages feature in your message and you add

another

 link to your message

content

, you'll see a warning message telling you that the link preview will not display properly.
Links in the link preview field must start with http:// or https://



Device-Specific Advice:

iOS – is active by default on the handset if the number is saved in the contacts.
Android – needs to be enabled on the handset itself. To do this, the recipient must navigate to Settings > Google > Data & Messaging and then toggle the switch for App preview messages to On: